 Detectives warning to arsonists who murdered grandmother and granddaughter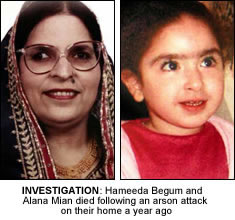 A DETECTIVE investigating the murders of a grandmother and her young granddaughter following an arson attack on their family home a year ago has vowed to bring their killers to justice.
Detective Chief Inspector Andy Peach from Greater Manchester Police said those responsible for the murders of four-year-old Alana Mian and her grandmother 71-year-old Hameeda Begum would be brought to justice no matter how long it took.
The duo died following an arson attack on their home on Little Holme Walk in Bolton on 23 June 2008.
Mrs Begum's husband, Mumtaz, and 24-year-old daughter Saima were also in the house at the time of the attack.
The family were rescued by firefighters and rushed to hospital along with firefighter Steve Morris who was badly injured trying to rescue the family.
Mrs Begum died in hospital while Alana finally lost her battle a number of weeks later.
Following the deaths detectives immediately launched a murder inquiry after it emerged a rubbish bin had been propped up against the front door of the house and deliberately set alight.
Detective Chief Inspector Andy Peach from the Major Incident Team said he believed there were still people withholding vital information in the ongoing investigation.
"It is sad to think that a year has gone by and the family devastated by this horrendous ordeal are still waiting for justice," he said.

"This investigation is still very much ongoing and I strongly believe there are people in the community that have information but for whatever reason have still not spoken to police.

"I urge you to come forward, no matter how insignificant you think the information maybe, please let us decide. Think about the family – they are unable to fully move on from what happened knowing whoever is responsible is still out there."
He also gave a strong message to those responsible for the arson attack saying the investigation would remain open until they are brought to justice.
"To the people responsible I have only this to say – we will find you, no matter how long it takes, and this investigation will not close until we do. You can help yourself by coming forward and taking responsibility for your actions, the family at least deserve that."