 'I'm too old for Twenty20', says victorious captain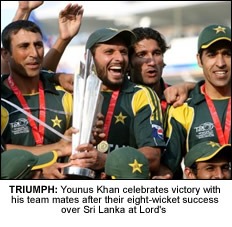 YOUNUS Khan insists he will stick by his decision to retire from Twenty20 cricket with immediate effect.
Pakistan's victorious ICC World Twenty20 captain Younus Khan will not go back on his decision to retire from the shortest form of the game.
Younus, who returned on a separate flight from the rest of the team, arrived to a hero's welcome in Karachi and was mobbed by ecstatic fans as he made his way out of the airport.
The 31-year-old batsman announced his decision to retire from Twenty20 cricket immediately after Pakistan's eight-wicket win over Sri Lanka in the final in England.
Several former players, including the Pakistan Cricket Board's director general and former captain Javed Miandad, have urged Younus to reconsider his decision.
But he vowed to stick to his decision. "I had decided to retire no matter the result even before leaving for the World Cup," Younus said.
"I think Twenty20 cricket is a very tough form of the game and it takes a heavy toll on the body.
"It's not easy and I don't want a situation where I am left out of the team. I think I am too old for this type of cricket."
The PCB came down heavily on Younus after he called the Twenty20 format "fun cricket" following their loss to England in the early stages of the tournament and Younus admitted he became more focused after that.
"I became a more serious captain after the early losses. I realised I had to be serious," he said.
"Our strategy was simple. I decided to take the pressure and allow the others to play freely.
"It was decided that if Kamran Akmal and Shahid Afridi failed then I would go in to bat and take the pressure.
"It worked for us and I am happy to bring so much joy to the people of Pakistan.
"I feel good that the future of Pakistan cricket is in good hands."
Younus said he was spurred by comments from former chief of selectors Abdul Qadir who, when he resigned, said he would not have picked Younus or Shoaib Malik in the team.
"The timing of his resignation and his comments were bad," Younus said. "I was motivated by that challenge."