 Navin Kundra talks to The Asian Today
COVENTRY'S Navin Kundra is living his dream.
The singer-songwriter-composer is one of the hottest talents around on the Asian music scene and he's loving every minute of it. With fans from Southall to South America, it's not bad for the 24-year-old whose big break came in 2005 when his stunning rendition of Robbie William's 'Feel' won him the BBC Asian Network's Unsung competition.
These days the multi-lingual singer is busy adding to his song catalogue which has yielded four consecutive top 10 hits in the UK Asian music charts. He's even found time to record a song for the forthcoming Akshay Kumar Kareena Kapoor starrer 'Kambakht Ishq', and is being guided by the man who made Raghav an international star.
We caught up with Navin during his international tour to find out how the music world is treating the boy from Coventry
You've been busy jet setting over the past few months – are you amazed at the following you have overseas?
For sure – I never realised how far across the world my music has actually travelled. Outside of the UK, recently I've been out touring in New York, Dubai and Holland, and it's awesome to see the crowds singing along to my songs. After shows the fans come up to me and tell me that they follow all my music online via YouTube and Facebook – and that's when you realise just how powerful the internet is. It's strange to visit countries I've never been to and hear my music playing on radio over there – I just recently found out that my current single topped the charts in Suriname, South America – I've never even been there! It's ironic that when I started out, one of my goals was to take my music around the world, but now my music is taking me around the world!
Surely nothing beats your UK fans though.
Well it all started here in the UK and the fans here have been amazingly supportive! The crowds out here know how to party and are very directly responsive to what they hear – if they don't like your music, you'll know about it and similarly if they do, then they show massive support. My first single was 'Tukde Tukde', which I wrote with my university mate M Johal, and I never expected it to spend 3 weeks at Number 1 in the charts because it was so different to everything out there at the time. The UK Asian Music scene is still big on Bhangra and Bollywood, but I truly believe that there's room for a new sound which switches it up – that's what I do and I'm glad that people are out there supporting it. I like to stay in touch and interact with my supporters using social networks like Facebook and MySpace – it's great to be able to communicate directly with them and I always try to make time for that. My UK fans are awesome – they voted 'Tere Liye' number 1 in the Asian Charts this week…thanks guys!
You were up for a UKAMA earlier this year. Unfortunately you missed out, but being nominated must have been a big coup for you?
Absolutely – I'm thrilled to have been nominated and would like to thank everyone who logged on and voted for me. I was also given the honour of presenting an award to Gurdaas Maan Ji who I am a huge fan of!
How important are the UKAMA's for the Asian music scene?
I think they are quite important because Award ceremonies recognise and celebrate talent and achievement – that's something which we don't have enough of. I think it's something we should be proud of and support. Myself and Jaz topped the public vote for the Award and then a panel of judges chose the winner – it's not about winning or losing, it's about the recognition and support for your talent. I do think though, that sometimes people can place too much importance on awards and I take the view that nothing speaks more than your work.
You burst onto the music scene after winning BBC Asian Network's Unsung Competition in 2005. That must have been an amazing experience.
It was awesome! When I heard the panel of judges announced on radio, I knew I had to send in some material and audition for it. I got to perform with a live band and put an Indian twist to 'Feel' by Robbie Williams. Thankfully I won the public vote and the judge's choice award. It meant a lot to me to be sharing the stage with the best of the British Asian music industry and artists such as Gurdaas Maan Ji. Since winning that competition, I've been fortunate enough to work with all of the judges which included Rishi Rich, Shin, Adil Ray, Mona Singh and am now managed by another of the judges, Nyrone who launched Raghav's career.
How important was winning the competition in realising your dreams of making it big in the music industry?
In all honesty, it was the fact that I got to perform on that stage and showcase my talent in front of those influential people and the audience that was more important to me than winning. Competitions come and go, just look at some of the winners of X Factor or Pop Idol – that is the biggest platform for anyone wanting to make it big, yet even some of the participants that went on to win those shows are not heard much today. So whilst competitions are important, it's really what you do after the competition that counts. Fortunately, I managed to top the charts with my first single, then had 3 tracks simultaneously in 3 different Top 20 charts, and now I've reached Number 1 again with my current single, Tere Liye. It's hard work, but I love it and step by step, I'm realising my dreams as well as dreaming new ones.
You sing in English, Hindi and Punjabi – do you think this sets you apart from other singers in the Asian music scene?
Yes – I love singing in all 3 languages and rather than sticking to 1, I tend to alternate between them and sometimes mix them all up in one song. That keeps the creative process exciting for me and ensures that the listeners will always get to hear something new. I truly believe that people aren't narrow minded in their musical tastes – they don't just want to listen to Bhangra all the time – they love variety and now people have access to more music than ever. I want to give them more variety – something new which still captures the essence of traditional Indian music, but with a more contemporary sound by creating a fusion with other influences. So you'll hear different shades on the album, from dance songs like 'Love Thing' and 'Mehbooba' to mellow melodious songs like 'Tere Liye' and 'Aaja'.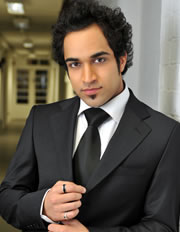 You've managed to get yourself heard in Bollywood! How did you get involved in the Akshay Kareena film 'Kambakht Ishq'?
Yep…of all the films I could've got – that's the title! (Laughs) This came about through Rishi Rich who was working with Anu Malik at the time. They needed a singer to vocal a song which was written in India to be filmed on Akshay Kumar. With the song being written in Hindi and English, Rishi Rich recommended me to Anu Malik. He played Anu some of my material including a song we've recorded together which is a collaboration with Jay Sean and they called me into the studio to record the song. I thought it was a joke at first, but then when I got to the studio – it was for real and it was a brilliant experience! 
Did you get to meet the stars?
No not this time…tut tut!
Is Bollywood something you'd like to do more of in the future?
Absolutely – I've grown up listening to Bollywood music and I love it! 
You came up with a very interesting concept for Valentines Day for your single 'Tere Liye'. Tell us a bit about that?
Well I wanted the song to be more than just another tune that people would listen to on the radio – I wanted it to be a song which was personal to them, which they could relate to, own and gift to their loved ones to tell them how much they love them – that's why I called it 'Tere Liye (For You)'. So prior to the Valentine's Day release, I offered everyone the chance to log onto my website and order a copy of the song with a unique personalised dedication to their Valentine which I would record on their copy of the song. This is something which has never been done before and the response has been phenomenal!
How many requests came in for the song?
Absolutely loads – I have been inundated with dedications for this song. In fact, it has done so well that after Valentine's Day, I decided to open up the personalised dedication order so that it is now available for any occasion as an MP3 or CD. So if it's someone's birthday, anniversary or even if there's no special occasion and you just want to tell someone how much they mean to you, you can get your dedicated copy at
www.navin-online.com
. Simply type in your name, the name of the person you'd like to dedicate the song to, the occasion (if any) and any message which you'd like me to say to them on your behalf – it's as simple as that! You can be as creative as you want with it and unlike flowers or chocolates, this gift is timeless. I even recorded a dedication on the song last week which was a marriage proposal by a girl…and he said YES! 
What have you got lined up for the rest of the 2009?
There's so much happening this year – first and foremost I'll be releasing my forthcoming single 'Mehbooba' which is an out and out summer dance tune! I'm currently finishing my debut album which will feature some exclusive collaborations and I hope to release it this year. I'm also going to continue touring both nationally and internationally – details of all my live dates are available on my website at
www.navin-online.com
. Make sure you add me on Facebook and subscribe to my YouTube channel
www.youtube.com/navinonline
 to be a part of the journey!
Interview By Zakia Yousaf