 Funny man Kulvinder Ghir heads new BBC Desi Podcast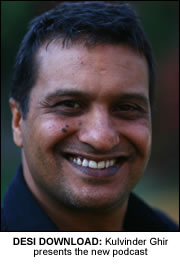 EVER downloaded a Podcast? Chances are you have, so here's another to add to your list.
The BBC has got all technologically savvy and has introduced their very own Desi Download – a 30 minute pick of the week programme highlighting the best of the weeks Asian programming from across the country.
We caught up with Kulvinder to get a low down on the new Desi Download…
Kulvinder tell us a bit about Desi Download   
Desi Download is an online radio Podcast, the essence of it is to bring BBC local Asian programming under one roof.  We pick the best stories so Asians around the UK and the world can listen to what's going on.
How did you get involved in the project?  
I was at the BBC in Birmingham and I was approached by one of the reporters and asked if I wanted to get involved and I said yes, it was as simple as that!  The draw for me was my own interest in what's happening around the country in local communities.   
What can listeners expect from the Podcast?  
They can expect interesting stories and realise how much of a diverse community we live in and they'll keep in touch with what's happening in their own communities too. And they'll get a bit of humour from myself! 
Desi Download is billed as a half-hour 'pick of the week' – how hard is it to cram all the information into 30 mins?  
It is quite difficult, because of the choices you have to make.  You have to pick the most interesting stories and you want to make the stories have a global interest too, as Asian's all around the world can download this, so you need to pick the right issues.  But as long as we keep getting interesting stories, will continue to make a great Podcast. 
You must feature some weird and wonderful stories – any which spring to mind?  
There was one of a bus driver who started to make his own wine and beer and opened up a shop!
The whole 'Podcast phenomenon' has really taken off – are the Asian community more technologically savvy then we think?  
Yes they are very much so, not only in this country but where ever Indians are and especially amongst young Asians.
Finally, in no more than 5 words…tell us why we should be downloading 'Desi Download'  
Can it be 10 words?!! It's keeping you in touch about yourself and your community!
Desi Download with Kulvinder Ghir is available to download every Tuesday.