 Gang jailed for total of 19 years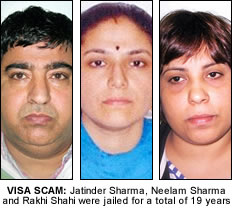 THREE people have been jailed for a total of 19 years following the largest ever immigration crime investigation by the UK Border Agency and police.
Jatinder Sharma, 44, and two women who both claimed to be his wives Neelam Sharma, 38, and Rakhi Shahi, 31, ran a company called Univisas, which specialised in providing would-be immigrants with counterfeit qualifications and documents to aid immigration applications in exchange for cash.
They were arrested in May 2008 by a specialist team of immigration officers and Metropolitan police officers and were today found guilty of running what is thought to have been the UK's largest ever visa scam.
During raids on their home and business premises in Southall, west London, officers seized thousands of counterfeit documents including false university qualifications, academic certificates and payslips. They also discovered hundreds of stamps used in production, and more than £22,000 in cash.
Sharma, who described himself as 'Son of a Lion' during a secretly filmed meeting, offered his clients a money-back guarantee that he could cheat the system.
He and Rakhi were described as the 'public face' of the business, while Neelam Sharma worked in the 'engine room', producing falsified applications.

Investigators discovered company records of nationals from more than 20 countries.
Following a four week trial at Isleworth Crown Court, Shahi was jailed for eight years after being found guilty of conspiracy to defraud, handling criminal property and immigration offences.
Neelam Sharma was found guilty of handling criminal property and sentenced to four years.

Jatinder Sharma had pleaded guilty at a previous hearing – the judge told him he would have to serve seven years behind bars. All have been recommended for deportation after they have served their sentences.

A fourth suspect, Arun Gajawada, had also previously pleaded guilty to offences relating to the scam – he was deported from the United Kingdom back to India in March.
Gajawada was a member of staff at the London School of E-Commerce, a bogus college that was involved in supplying false documents to Univisas. It has since been closed down.

UK Border Agency Regional Director, Tony Smith said: "This was one of the largest joint investigations ever undertaken by the UK Border Agency and police. We believe we have cracked a major international conspiracy to facilitate the entry of illegal immigrants into the United Kingdom. Those behind it showed total disregard for the law, and their motives were purely financial."