 Leicester men aided international drugs ring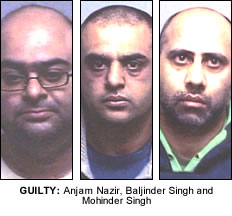 THREE Leicester men who helped to smuggle cannabis worth more than £36m into the UK have been convicted.
Baljinder Singh Rai, 41, of Huntsman Way in Leicester, Mohinder Singh Rai, 45, of Portsdown Road in Leicester and Anjum Nazir 39, of Bloxams Close in Braunstone pleaded guilty at an earlier hearing to their part in one of the country's biggest Cannabis smuggling operations.
Details of the case could only be reported today following the conclusion of another trial involving a further eight men. Four of the final defendants were found guilty on Friday May 29, two were found guilty today and a further two were acquitted.
Detectives from Leicestershire Constabulary's Special Operations Unit began investigating the trio 18 months ago.
Investigations established that the three Leicester men were assisting an Israeli organised crime group make arrangements in the UK to find a place to berth a tug boat under the ruse of setting up a tug business in Southampton.
Months of surveillance work documented meetings between the two groups of men, including a number at a flat in Leicester which had been rented by the Leicester defendants for the Israeli men to use.
In March 2008 a 100ft ocean going tug boat, owned by one of the Israeli defendants Moshe Kedar, left Morocco and arrived in Southampton four weeks later.
On Wednesday April 9 officers from Leicestershire Constabulary arrested Baljinder Rai, Mohinder Rai and Nazir.
The tug boat was also intercepted and found to contain 12.57 tonnes of cannabis resin with a street value of £36 million pounds.
Detective Chief Inspector David Sandall, who led the Leicestershire side of the investigation, said: "Drugs are an international concern and to fight multi-national criminality you have to think, act and work outside the county boundaries. 
"There's no doubt in my mind that this drugs haul was bound for the streets of Britain, some of which would inevitably ended up in Leicester."