 Family hit out at 'barbaric killer' after guilty verdict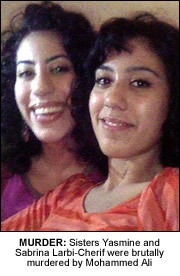 A BIRMINGHAM man who butchered his girlfriend and her sister to death in their city apartment has today been found guilty of murder.
Mohammed Ali, 29, of Old Snow Hill, was convicted at Birmingham Crown Court of the murder of Yasmine and Sabrina Larbi-Cherif. The partially-clothed blood soaked bodies of the sisters were found in their city centre apartment in September 2008.
The court heard that Ali used three knives to stab Yasmine in the back and head, and inflict 35 separate knife wounds on her sister, leaving behind a scene of carnage.
Detective Chief Inspector Joanne Clews who led the investigation described Ali as a "monster" who "showed no remorse or sorrow" for his actions.
The court was told Ali had been in a relationship with the elder of the two sisters Yasmine, 22, before the murders.
He had spent five months in jail awaiting trial for allegedly raping Yasmine.
Police said the case was dropped at the last minute because Yasmine said she did not feel able to give evidence about her ordeal in court.
Prosecutor David Crigman QC told Birmingham Crown Court Ali had stabbed both sisters in the lounge of their flat, dragged their bodies into the bedroom and sexually abused the two girls before fleeing the flat on 14 September last year. 
When the sisters did not make contact with the family, as was their usual practice, Yasmine's twin brother visited the flat the next day and discovered the bodies of his sisters lying in the blood-soaked flat.
Birmingham Crown Court was shown CCTV from the sisters' apartment complex showing Ali arriving at their flat at 12.21pm on the day of the murder.
Forty five minutes later the same camera shows Ali leaving the complex but wearing a different set of clothes, including a pair of jeans that belonged to one of the sisters.
Later the same day CCTV showed him return to the flat.
Ali was eventually apprehended by police at Dover where he was attempting to flee to France two days after the murder.  
Det Ch Insp Joanne Clews, from West Midlands Police, described the two sisters as "young, beautiful and talented who had their whole lives ahead of them."
She said the sisters' were murdered "in the most brutal and horrific way" by a man Yasmine "trusted".
"The injuries inflicted by Ali on Yasmin and Sabrina were both violent and sadistic. He left behind an unimaginable scene of carnage and destruction," she said.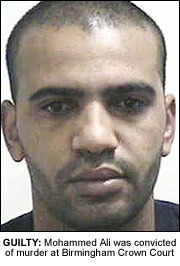 "I believe that Ali is a violent, evil and controlling man who had no respect for Yasmin during their relationship.
Ms Clews added: "From what I have learnt from the course of this investigation I believe that Mohammed Ali was a monster. Throughout, Ali has refused to accept full responsibility for these brutal murders and as a result Yasmin and Sabrina's family have had to additionally endure the disturbing detail that has been presented at his trial. At no stage has he shown any remorse or sorrow for what he has done.
"Today's result will see Ali spending a lifetime in prison."
A statement released by West Midlands Police on behalf of Yasmine and Sabrina's family said: "As parents and brothers of murdered Yasmine and Sabrina, sitting through this trial and having to watch and hear lies and denials from the defendant, who has failed to show any kind of remorse for the pain and suffering he has caused has been incredibly difficult.
"Yasmine's only mistake was her refusal to submit to such an abusive, vicious and evil individual, whilst Sabrina's was her brave attempt to stop this monster from killing her sister.
"We will forever be proud of our two angels, Yasmine and Sabrina. We will love you forever and miss you every single minute of every day."