 £50,000 reward offered by Sikh community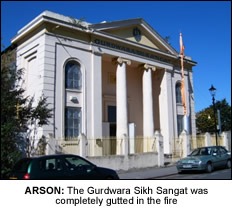 MEMBERS of a London Gurdwara that was gutted in a suspected arson attack have offered a substantial reward to help find the culprits.
The ferocious fire at the Gurdwara Sikh Sangat in Harley Grove, Bow, on 16 March swept through the building, destroying several holy Sikh scriptures.
Management at the Gurdwara said they were devastated at the attack and have offered a £50,000 reward.
Ten fire engines and around 50 firefighters tackled the blaze at the popular Gurdwara.
Members of the Gurdwara said an intruder was confronted on the premises shortly before the blaze took hold in a room where holy Sikh scriptures, the Guru Granth
Sahib Ji's' were kept.
They are hoping the reward will help police apprehend the arsonist.
"Since the incident the police with our full cooperation have been conducting their investigation, but unfortunately they have failed to apprehend the intruder," a statement released by the Gurdwara said.
"This is of great concern to the Management Committee, our Members of the Gurdwara and the whole Sikh Community. Therefore we have decided to take a more active role and assist in the investigation by offering a £50,000 reward."
The statement added the reward would be offered for information leading to the "successful arrest, trial and conviction of the person or persons responsible for the fire."
The Gurdwara is also organising a march in London this weekend in protest against the arson attack and the "lack of progress" in the police investigation.