 City father runs the race of his life in memory of beloved son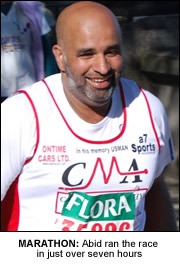 A BIRMINGHAM father has spoken of his delight after completing the London Marathon in memory of his young son.
Abid Hussain completed the 26 mile annual run in just over seven hours in memory of his beloved 14-year-old son Usman who passed away last May following a gruelling battle against Dilated Cardiomyopathy -a condition that causes the heart muscle to weaken.
Just months before Usman passed away, dad Abid had promised his young champion he would run the race and raise money for The Cardiomyopathy Association – a charity that supported the Hussain family during their difficult time.
Speaking to The Asian Today Abid said he was determined to cross the finish line and fulfil that promise to Usman.
"When Usman was alive I told him I would run the London Marathon but he just laughed at me. He told me I wasn't fit enough!", Abid told The Asian Today.
"Usman always used to remind the family that we all belong to Allah and to him we shall return. I was so proud to have a son like Usman which is why I was so determined to finish the marathon."
Despite never having run a marathon, Abid underwent exhausting training sessions in the gym to make sure he was in shape for the big event.
He set up a fundraising page in the weeks leading up to the run and has to date raised over £1,000.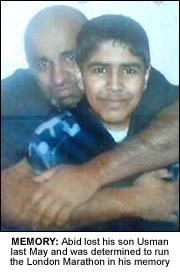 Abid is still a way off his target of £3,000 but is confident of reaching the target with donations still rolling in.
"All donations will be given to The Cardiomyopathy Association so they can carry on researching and supporting families who have lost loved ones. It's what Usman would have wanted me to do," Abid said.
"It's not too late to donate so anymore donations would be appreciated," he added.
A spokesperson for The Cardiomyopathy Association said: "Our thanks go to every member of the CMA 2009 London Marathon team for their fantastic efforts in support of our work."