 Youngster praised for 999 call saved mums life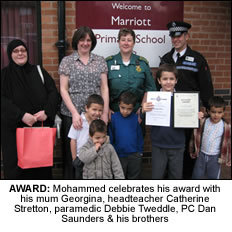 A YOUNG Leicester boy has been hailed a hero after dialling 999 when his mum collapsed at the family home.
Nine-year-old Mohammed Chelbi was presented with a Young Hero Award by officers from Welford Road local policing unit following his brave actions.
Mohammed raced into action after his mum, Georgina, suffered an epileptic fit at the family home Brookfield Rise, Saffron Lane.
She fell, hit her head and lost consciousness as Mohammed and his four younger brothers looked on helplessly.
Mohammed raced to the telephone, dialled 999 and waited with his brothers until an ambulance arrived.
The brave youngster even called his auntie to tell her what had happened.
Police and paramedics were so impressed by Mohammed's actions that they presented him with a Young Hero Award in front of his classmates at Marriott Road Primary School in Leicester.
Mum Georgina said she was "so proud" of her young son.
"He is a real gift from god. I am so proud of him and so thankful that he was there that morning," she said.
"He remained calm, called for an ambulance, looked after his brothers and even rang my sister to let her know what had happened. I cried when he was handed the award. He really deserves it."
PC Dan Saunders from the Saffron Lane Estate neighbourhood team added: "It is great to see a young member of the community acting in such a responsible way. Mohammed is a credit to his mum, the school and the local community."