 Indian-born Mandip Sharma and Brando Sibayan jailed for four years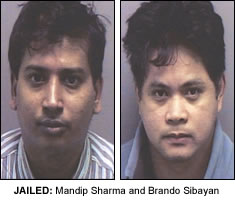 TWO foreign nationals have been jailed for four years each for their roles in running the largest ever passport forgery factory in the UK.
Mandip Sharma, 34, from India, and Brando Sibayan, 38, from the Philippines, pleaded guilty at Leicester Crown Court to possession of equipment for making false identity documents.
The UK Border Agency said it will seek to deport both men back to their home countries when they have served their prison sentences.
The pair were caught after officers from the agency's East Midlands office paid a routine visit to question Sibayan, a suspected illegal immigrant, at his home in Catherine Street, Leicester, on January 23.
On searching the house, officers found eight boxes of laminated documents, passport covers and a laminating machine. A search of another house found up to 4,000 counterfeit passports for several European Union countries including the United Kingdom, Belgium, France, Italy, the Netherlands, Portugal and Spain.
Guillotine machines, forgery stamps, driving licences, national insurance cards and other forms of identification were also discovered. Indian-born Sharma, aged 34, was arrested at the house.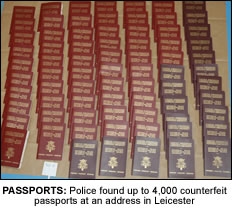 The discovery was later confirmed as the largest ever passport factory in the United Kingdom according to officers from the UK Border Agency's National Documentation Fraud Unit.
Detective Chief Inspector Donna Thomson from Leicestershire Constabulary said: "This operation demonstrates our commitment to tackle criminality involving foreign nationals.
"Organised criminals stand to make a lot of money from the trade of fake documents. We are committed to working with the UK Border Agency to continue targeting these individuals."