 £500,000 boost for slum children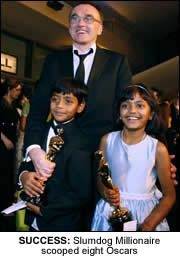 THE team behind the Oscar-winning movie Slumdog Millionaire have pledged to financially support the lives of Indian children living in Mumbai's slums.
International development agency Plan will receive £500,000 over a five-year period to boost education and healthcare amongst India's most poorest community.
Slumdog Millionaire's producer Christian Colson said he hoped the money would allow thousands of youngsters to get a decent education and access to good healthcare.
"We are grateful to everyone who has supported this initiative and we are looking forward to working with Plan to ensure that the money is put to the best possible use," he said.
The hit movie, which was shot in Mumbai, shone a light on the plight of some of the world's poorest children.
Slumdog director Danny Boyle said he wanted some of Mumbai's poorest children to benefit from the huge success he has had with his award-winning movie:
Boyle said: "Having benefited so much from the hospitality of the people of Mumbai it is only right that some of the success of the movie be ploughed back into the city in areas where it is needed most and where it can make a real difference to some lives.
"Despite intimidating odds, extraordinary work is going on to help people break the cycle of poverty through education. We're delighted that this initiative will add to that ongoing work."
This money will fund projects in the slums of central Mumbai focusing on education programmes, training children and adults in good hygiene/sanitation techniques. Plan said it hoped to reach 2,000 families and 5,000 children.
Marie Staunton, chief executive of Plan UK, said: "Around one billion of the world's population live in slums and there are 100,000 new slum dwellers every day*.
"Slumdog Millionaire has shown audiences around the world a snapshot of what life is like for one in six people on the planet.
"Education really is the key to breaking the cycle of poverty so we will focus the funds on getting children into school, keeping them there and ensuring they are healthy."
Bhagyashri Dengle, executive director of Plan India said: "The phenomenal global success of Slumdog Millionaire has helped focus attention on the needs of some of the most vulnerable children in India – ones who have missed out on India's recent economic boom.
"Plan in India has a long history of helping communities create real and lasting change for children
"This generous donation from the filmmakers will enable Plan to reach out to many more children, empowering them to be able to live healthier and happier lives."