 Exhibitions and events to mark development of 'Little India'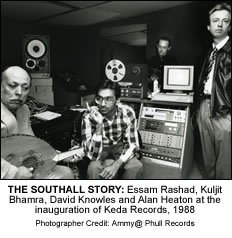 A SERIES of exhibitions and events will celebrate 30 years of London suburb Southall next month.
'The Southall Story' will chart the development of the much-loved area through photographs, recordings, film documentaries and archive material.
The suburb, dubbed 'Little India', is one of the capital's most heavily populated South Asian areas.
The events will take place from April at venues including the British Library, South Bank Centre, Royal Geographical Society and Southall Library.
Musician Kuljit Bhamra, artistic director of the project, said the importance of the area to British culture has never been fully acknowledged.
"Southall's contribution to music, poetry, film and theatre is under acknowledged," he said. "People sometimes forget that Bhangra is a British creation – along with Fish 'n' Chips and Chicken Tikka Masala. If you think about it, you will realise that many of the creative pioneers came out of Southall."
Mr Bhamra will be joined at a special launch event at the end of next month by Pragna Patel from the renowned refuge Southall Black Sisters, and Bend it Like Beckham director Gurinder Chadha.
Today tourists are as eager to visit Southall as they are to experience the capitals most recognised attractions.
While the area embodies all that can be celebrated from multi-cultural Britain, the launch of The Southall Story coincides with the 30th anniversary of Britain's first major race riot.
What was meant to be a peaceful protest made up of Black, White and largely Asian residents turned into a bloody uprising against the National Front in which 33-year-old schoolteacher Blair Peach died. As a result, Southall emerged as a community determined to fight for its identity, integrity and self-respect.
Faced with racial attacks and police brutality, there was an eruption of prominent groups such as the Southall Monitoring Group and the Southall Black Sisters, determined to overcome racial adversity.
On the other side of the spectrum Southall's cultural awakening began with an outpouring of creative expression from poetry, theatre, music, art and literature. Progressive Writers Association began to explore writings in native Punjabi and there was an emergence of talented musicians and producers such as Kuljit Bhamra and his mother Mohinder Kaur who introduced 'Bhangra music' into British culture.

Shakila Taranum Maan, Co-Artistic Director of The Southall Story, said the events of 1979 shaped the area.
"The events of 1979 were central to placing Southall on the consciousness of Britain. British Asians, Caribbean and White young people at the time gravitated towards this incredible town including myself to find a voice," she said. "Our sole aim was to transcend race but on our terms and not within a multi-cultural framework. We wanted the mix of Southall's reggae band Misty in Roots with the Bhangra sounds of the likes of Alaap and so on. For us this was the ultimate gesture of determining our identity, doing away with the ever evolving pathological construction of Asians and Blacks through mainstream media and education."
"It was this energy and originality that enabled the mushrooming of artists, activists, poets, actors, directors and entrepreneurs vindicating the enormous talents that had so far been ignored by the mainstream. The aim of the Southall Story is to readdress that balance, placing centre stage the creative talents and the influence of Southall internationally."