 CPS apologise over blunders that led to murder of domestic violence victim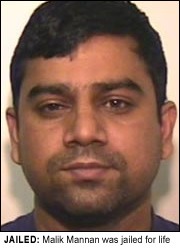 A MAN who was allowed to continually harass his wife before murdering her in cold blood has been jailed for life today.
Malik Mannan, 36, repeatedly attacked his wife, Sabina Akhtar, originally from Bangladesh, during the duration of their six year marriage.
Despite finally plucking up the courage to report her abusive husband to the police, Mannan was never charged.
In the months leading up to the murder Mannan continually breached his bail conditions, harassing 26-year-old Mrs Akhtar and threatening to kill her – but he was never charged.  
Mrs Akhtar, a mother-of-one who had married Mannan in 2003, was murdered five days after making what would turn out to be her final complaint.
The Crown Prosecution Service, who made the decision not to charge Mannan, have publicly apologised over their blunder and are said to be considering a face-to-face apology to the family of Mrs Akhtar.
Yesterday a jury found Mannan, from Longsight, Manchester, guilty of murder. He was jailed for life today with a minimum tariff of 17 years.
During the trial Manchester Crown Court was told Mannan began assaulting his wife shortly after she arrived from Bangladesh when she was pregnant with the couple's son.
Mrs Akhtar also discovered her husband had a mistress with whom he had two children.
Prosecutor Paul Reid QC told the court Mrs Akhtar contacted police two months before her death and told them her husband had assaulted her 25 times.
But the CPS decided against charging Mannan despite him breaching his bail conditions on a number of occasions.
The court was told that in the early hours of 12 September 2008 Mannan visited his brother and told him he had beaten his wife, before leaving.
Unable to trace Mannan his brother contacted police who visited the couple's home on Charlton Road, Levenshulme.
There they found Mrs Akhtar's body. She had died from a single stab wound to the heart.
Police immediately launched a manhunt for Mannan and concerns were raised for the couple's four-year-old son. The child was eventually traced to the home of Mannan's mistress.
Shortly after detectives arrested Mannan after he was stopped in his car in Longsight.
The jury was told that following the murder Mannan was in the process of fleeing Britain and had renewed his passport. He had intended to leave for Bangladesh with his young son.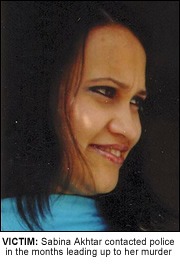 Senior Investigating Officer Dave Hickey described Mannan's actions as "cowardly".
"Mannan clearly intended to leave the country with his young son after murdering his wife. Throughout their marriage he controlled Sabina, using threats and violence on many occasions," he said.

"This was a cowardly attack on his wife, who was already vulnerable, and is an example of domestic abuse at its most horrific.

"Mannan left Sabina for dead, making no attempt to get any help for her. He thought only of trying to get out of the country without having to face up to what he had done.

"Mannan has continually refused to accept responsibility for his actions, which not only took Sabina's life, but has left his young son without his mother, and now without his father. I hope Sabina's family can now take some comfort from the fact Mannan is facing a long time behind bars, where he can't hurt anyone else."