 Casino's used to launder thousands of pounds, court told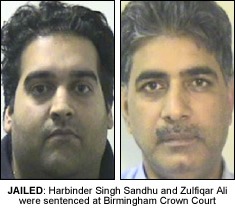 TWO men from the Midlands have been jailed for their part in a money laundering scam to 'clean up' the profits from serious organised crime gangs.
Zulfiqar Ali, 55, and Harbinder Singh Sandhu, 33, acted as cash couriers for the gang who laundered thousands of pounds from drug trafficking, multi-million pound VAT conspiracies in the mobile phone industry, counterfeiting and credit card fraud.
Ali, of Harbourne, Birmingham, was sentenced to 15 months in prison at Birmingham Crown Court.
Sandhu, Woodville, Swadlincote, Derbyshire, was sentenced to 12 months in prison.

A further five defendants received jail terms totalling over 30 years in 2008.
Birmingham Crown Court heard how Ali and Sandhu acted as couriers to launder hundreds of thousands of pounds by exploiting the gambling industry.
The court heard that money would be placed on deposit at casinos and withdrawn a day or so later while other sums would be gambled in order to disguise the original source of the banknotes.
The scam, the court was told, provided the defendants with an apparently legitimate explanation as to their source.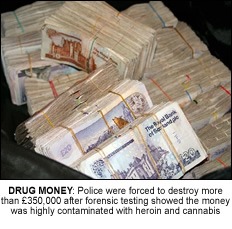 More than £350,000 was recovered following raids across the West Midlands. Around £200,000 was found in a residential property stashed in two holdalls and a further £150,000 was found stuffed in a Harrods carrier bag in a vehicle.
Police were forced to destroy the bank notes after forensic testing showed they were highly contaminated with heroin and cannabis.
Nick Burriss, Assistant Director of Criminal Investigation for HM Revenue & Customs (HMRC), said: "The successful conclusion of this case has resulted in a number of serious criminals being sent to prison. This was a highly sophisticated and complex fraud against the taxpayer and enabled the defendants to fund extravagant and luxurious lifestyles including properties, performance cars and designer jewellery."
Last year five men were sentenced for their part in the scam.
Harvinder Singh Batth, 32, of Little Aston, Staffordshire was jailed for nine years. He was described in court as a "principal player" in the money laundering scam alongside Jasbinder Singh Bedesha, 46, who was sentenced to eight years.
Sukhjinder Singh Shergill, 32,was jailed for of seven and a half years, Suckjit Singh Birring, 36, two and a half years, and Jatinder Singh Salh, 35, three and a half years.