 New appeal in search for Akram Hussain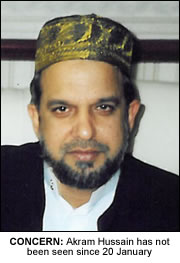 DETECTIVES have launched a new appeal to trace a man who disappeared from his family home a month ago.
Businessman Akram Hussain, 48, has not been seen since he vanished from his home in Heaton, Bradford on 20 January.
The father-of-six has not been in contact with family or friends leaving police to admit they are "increasingly concerned" for his welfare.
Over the past four weeks a team of officers have pursued a number of lines of enquiry to try and trace Mr Akram. They have worked extensively with his family in the hope the smallest information could lead to his whereabouts.
Officers have also been making enquiries nationwide to try and trace the green BMW 320 series – registration W162NLF – Mr Hussain was last seen driving.

Police believe Mr Akram has connections in Bradford, Dewsbury and Barnsley and have appealed to the public for any information they may have.
Detective Inspector Dave Marshall of Airedale and North Bradford CID, said: "It is now more than a month since Mr Hussain was seen by his family and clearly as the passage of time since his disappearance increases, we are becoming increasingly concerned for his welfare.

"At this stage there remains no clear reason why he has disappeared despite extensive enquiries and I would ask anyone who has information, even if they think it is insignificant, to come forward."
He added any sightings of Mr Akram's green BMW should be reported immediately.
Anyone with information regarding this appeal can contact Airedale and North Bradford CID on 0845 60 60 606 or the missing people charity helpline on 0500 700 700.