 Omid Djalili to play Fagin in West End hit Oliver!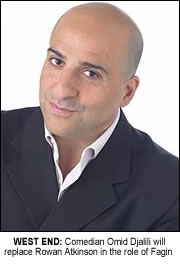 COMEDIAN Omid Djalili is set to join the cast of West End hit Oliver!
The award-winning actor and comedian will play the role of Fagin in Lionel Bart's smash hit musical.
He will replace Rowan Atkinson who has received rave reviews for his portrayal of Fagin. Djalili, who will take on his new role in July, is scheduled to appear until the end of the year.
Producer Cameron Mackintosh said: "No one could fulfil this criteria better than Omid Djalili. Omid started his career as an actor but was soon to become a major television star and one of the funniest comic actors and writers in Britain who regularly plays unforgettable cameos in movies. It is his ability to inhabit his characters with such comic energy and wily cunning that will make his Fagin his own."
Djalili is one of Britain's most internationally renowned comedians. In America he recently co-starred with Whoopi Goldberg in her sitcom 'Whoopi', and has appeared in big-budget Hollywood blockbusters including The Mummy, Gladiator and Pirates of the Caribbean III.