 Devoted police officer 'extremely delighted' at honour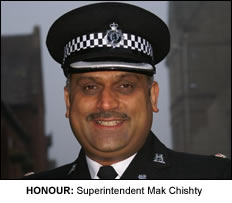 A WARWICKSHIRE police officer has spoken of his delight at being honoured with the Queen's Police Medal in the 2008 New Year's Honours List.
Superintendent Mak Chishty who has spent 22 years on the force, receives the award for distinguished police service.
He will travel to Buckingham Palace later this year to pick up the honour.
Mr Chishty, a British Pakistani, said he was "extremely delighted" at the honour, adding "I joined Warwickshire Police in 1986 at the age of 18 and a half and I have thoroughly enjoyed every moment of my career ever since".
Born in Birmingham, Mr Chisty now lives in Warwick with his wife Shiree and their two teenage children.
After joining Warwickshire Police in 1986 he worked in all areas of policing, including 14 years in CID, rising to the rank of Detective Superintendent.
Mr Chishty also holds two Chief Constables Commendations, one for saving life, and in 2002, he established the Warwickshire Black Police Association, which he continues to chair.
Mr Chishty is so committed to his job he even turned up on his wedding day in full uniform!
For the devoted officer, the real rewards of the job come in serving his local community – a job he had dedicated 22 years of his life to.
He said: "The most satisfaction for me comes from working with and serving local communities. I have been very fortunate to work with many excellent members of local communities and colleagues from partner agencies over the past 22 years in providing the best protection from harm possible."
Ian Francis, Chair of Warwickshire Police Authority said: "Mak is well known to many communities across the county and I know they will join with the authority in congratulating him on this award. All officers and members of the authority are delighted that his distinguished service to Warwickshire and to policing in general has been recognised by Her Majesty The Queen."