 James Caan to co-chair Government's Task Force for BME Businesses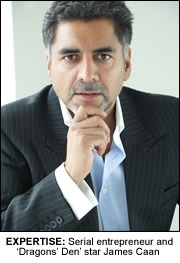 SERIAL entrepreneur and 'Dragons' Den' star James Caan has been appointed co-chair of the government's Ethnic Minorities Business Task Force, reporting directly to business secretary Lord Peter Mandelson.
The Task Force, whose remit is to form strategy to assist BME-owned businesses across the UK, is the country's most influential team working on behalf of ethnic minorities in the business arena.
Caan made his name and fortune in the recruitment industry before moving into private equity as well as, more recently, starring in the BBC's prime time programme Dragons' Den.
Having grown up in London's Brick Lane in a family business setting but deciding to go it alone in a different sector, he has first-hand experience of both BME family business and growing a multi-million-pound company, making him ideally positioned for the Task Force.
"BME-owned businesses of all sizes contribute a very impressive £30bn to £40bn to the UK economy each year, and they're one of the key areas of the economy that's actually growing" he said.
"We're talking about an estimated 210,000 businesses across the country, with a solid London base but also a very dynamic presence in the regions. There could be as many as 100,000 new BME businesses created over the next 12 months alone, and part of the Task Force's job will be to make sure Government support is communicated to the right people in the right way, encouraging these entrepreneurs as well as signposting very practical Government packages that are in place to help them – and the way that's communicated is very important too."
"Government support is provided across the economy and is by no means restricted to BME groups," he added, "but this particular Task Force is focussed on BME businesses, and that's where I'll be offering my insight and experience. It's an area I have a close knowledge of and one that's close to my heart."
Lord Mandelson welcomed Caan's appointment saying his "entrepreneurial expertise and business acumen will further build the Task Force's work in removing barriers for BME business owners."