 Mexican legend warns Khan 'I will be victorious'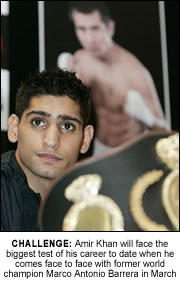 BOXING legend Marco Antonio Barrera is fighting fit – and coming to the UK to defeat Amir Khan, he said during a media conference between the two boxers.
The Mexican legend was cut when he fought last weekend and there were fears the fight would be called off.
But Barrera was given the all clear by his doctors in the States.

He will meet Khan at the MEN Arena, Manchester, on March 14 over 12 rounds – and says there will only be one winner.

"Things happen, I got cut, but it's no big deal," said Barrera, "I'm not coming here to be a stepping stone, and I'm coming here to win the fight.
"Amir Khan shouldn't be worried about any cut, he should be worried about Marco Antonio Barrera. I am ready and my hands will be raised in victory at the end of the fight."

He said Khan would be "another British fighter who will be on my list" referring to his points win over Prince Naseem Hamed in 2001.

Khan's promoter Frank Warren, suggested the fight, which is expected to be a 22,000 sell out, would pitch master against pupil – and the time was right for the younger man to take over.

But Barrera, 35, shrugged off concerns that he may be a faded force and would find Khan's youth too hard too handle.

"I have seen a couple of Khan's fights, I know he is a good fighter, he has good speed, but he makes mistakes and his chin is questionable so I'm pretty sure that I'm going to win," said Barrera, who beat Freudis Rojas on a third-round DQ in Mexico on Saturday.

Barrera's confidence was shared by his promoter, Don King.

"I am looking forward to him coming over and knocking out Amir Khan," said King. "Marco Antonio is like the Hispanic fighters of yesteryear.

"He's coming with vigour, spirit and grit – get ready he's coming to fight. The cut was no more than a pimple. This is going to be war."

King twice quoted Winston Churchill and paid tribute to the Queen before turning his attention to Freddie Roach, the man charged with getting Khan's tactics spot on for the lightweight showdown.

"Doctor Freddie Roach will have to perform another operation, a come back operation on Amir Khan after this fight," said King.

"Beep, beep, beep, 'Doctor Freddie Roach, will you come to the operating room?' Get ready Freddie, this is going to be a knock out. Get ready we are on our way."

But while Khan and Warren couldn't match the hyperbole of King and Barrera, they were quietly confident the man from Bolton would win the fight.

"You've got the new kid on the block against the legend, but I've got absolute faith in my warrior," said Warren.

"He's got all the tools to go on and be a legend in boxing. I believe in him and I put my money where my mouth is.

"I believe he's going to the future of British boxing and the future of world boxing.

"This fight is a tremendous sporting event in Britain, and it has really captured the public's imagination.

"If Amir wins this fight he gets in a situation where he will fight for a world title, hopefully in his next fight."

Khan added: " I wouldn't have taken this fight if I didn't think I could win it. I think Barrera is made for me style wise and I will go in very confident."