 'Our protests led to Razzie nod', say US group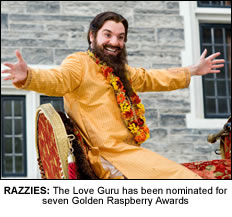 AN AMERICAN Hindu group have claimed victory over Hollywood film The Love Guru, claiming their protests led to it being nominated for seven Golden Raspberry awards.
The Mike Myers film came in for fierce criticism last year from Hindu groups across the world who claimed it ridiculed Hinduism.
The film, which stars Mike Myers, Ben Kingsley, Jessica Alba and Justin Timberlake, tells the story of Pitka (Myers), an American abandoned in an ashram in India as a child who later returns to the US as a guru to seek fame and fortune.
The Golden Raspberry Awards – held a day before the Oscars – honours the worst films of the past year.
Hindu Rajan Zed spearheaded protests against the film and studio Paramount in March last year.
He said protests contributed towards its recent Razzie nominations.
"Although various issues contributed to the films failure, our effective protest resulting in boycott calls, supported by other people of faith, was one of the major factors," he said.
Other religious groups also supported the protests against the film.