 Stained glass window celebrates city's diversity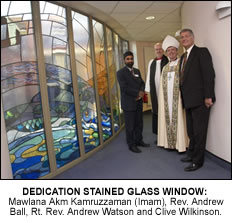 A CEREMONY to dedicate a stained glass window at Heartlands Hospital faith centre was held last month, celebrating the different faiths and religions in Birmingham.
The specially commissioned window, named The Creation, is located in the centre of the hospital, acting as an area for prayer and reflection.
The dedication ceremony was led by Rt. Rev Andrew Watson, Bishop of Aston and included readings from the scriptures of six different faith traditions, including, Christianity, Islam, Hindu and Buddhist.
The Creation cost more than £20,000 and was funded through donations from Birmingham Airport, the Trusts Chairman, Clive Wilkinson, and friends and family's of past patients.
The stained glass window was designed and crafted by local stained and fused glass artist, Anita Pate.
Rt. Rev Andrew Watson, Bishop of Aston, said: "I was truly honoured and blessed when asked to conduct the official opening of the stained glass window and it was wonderful to see multi-faith communities come together to celebrate such a special occasion."
Rev. Andrew Ball, joint head of Heartlands chaplaincy, said: "The window signifies the coming together of all faiths, which is what our chaplaincy is all about.  It is now a unique part of our chaplaincy and we would like to say a big thank you to all who have donated. As a multi-faith centre we serve all patients who come into contact with the hospital and the window, we hope will be another way for both relatives and patients to cope with their experiences while in the hospital."