 Grammy night success for Slumdog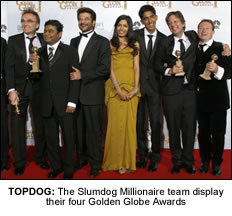 IT was more 'Topdog' than Slumdog as Danny Boyle's captivating screen drama about a young orphan's amazing run on the Indian version of Who Wants to be a Millionaire swept the board at last nights Golden Globe Awards.
Slumdog Millionaire proved it stood a real chance to win a coveted Oscar next month as it won all four awards it was nominated for.
Its biggest scoop was the best motion picture drama award which was won ahead of Brad Pitt's The Curious Case of Benjamin Button and Ron Howard's political drama Frost/Nixon.
Danny Boyle scooped best director, while Simon Beaufoy won best screenplay.
The final award was handed to Indian composer A.R.Rahman for best original score.
All three were joined at the awards by leading stars Dev Patel and Freida Pinto.
Backstage the Slumdog team could all but hide their excitement in what turned out to be a remarkable night for the British film.
"Is this really happening to me? My first film wins four Golden Globes? I just can't believe it," co-star Freida Pinto said.
Boyle added: "They have this expression — which I hope I pronounce correctly — in Hindi, which is when you do something, you should do it from the heart. The film was made from the heart, and we never expected to be here, and it's incredible that we are."
There is real excitement now that the film could replicate its Globe success at the Oscars.
Nominations for the Oscars are announced on 22 January – a month before the glittering ceremony.