 Film Café guikty of changing results of votes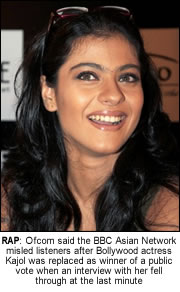 THE BBC Asian Network was slammed yesterday for its 'lack of regard' for the broadcasting code after it changed the results of a Bollywood Film Awards show voted by its listeners.
Media watchdog Ofcom criticised the station in a report that saw the BBC fined £95,000 for breaching broadcasting codes on a total of five programmes.
The BBC Asian Network was cited in the report for its programme Film Café which was broadcast on 17 February 2007.
The show, which was taken off the air in June 2007 following programme changes, was found guilty of changing the results of two categories in a Bollywood Film Awards show which was voted for by listeners.
In the 'Best Supporting Actress' category, Hema Malini received the most votes, but Soha Ali Khan was announced on-air as the winner, the Ofcom report said. In the 'Best Actress' category, Kajol Devgan received the most votes but Rani Mukherjee was announced on-air as the winner.
The programme, Ofcom said breached Rule 2.2 of the Broadcasting Code which states: "Factual programmes or items or portrayals of factual matters must not materially mislead the audience".
In a response to the investigation The BBC said in the case of the 'Best Supporting Actress', the wrong winner was announced due to human error, claiming the interactive producer misread the figures.
In the case of the 'Best Actress', the BBC said the incorrect winner was announced because a planned interview with the actual winning actress fell through.
The BBC said the producers' decision to substitute winner Kajol Devgan for runner-up Rani Mukherjee "contravened the BBC's Editorial Guidelines".
In September 2007 the Asian Network broadcast an apology to its listeners admitting the mistakes were "bad" and apologising "unreservedly for them".
The apology followed an internal investigation carried out by the Corporations own watchdog the BBC Trust.
In its judgment Ofcom said the station "deceived" both those who voted and those who listened to the programme.
In a statement the broadcasting watchdog said: "The case demonstrates the production team's lack of regard for the Code when planning the programme. Its failure to properly prepare and conduct the poll resulted in the audience being misled. "The producer's decision to change the outcome of the 'Best Supporting Actress' vote also reveals a willingness to exploit audience trust in the programme and knowingly mislead listeners."
Following publication of the Ofcom report, the BBC said it accepted the watchdog's findings.