 IPCC hearing closes after witness pulls out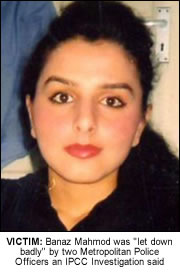 TWO police officers who "let down" honour-killing victim Banaz Mahmod weeks before she was brutally murdered will not face a disciplinary hearing, the police watchdog have said.
The two officers – a police constable and an inspector – were scheduled to face a Metropolitan Police Service (MPS) hearing in relation to the way they dealt with Banaz just weeks before she was killed by her father and uncle.
The officers', the IPCC said, were guilty of "serious failures" over the way they handled Banaz.
In the months leading up to her death Banaz made five desperate calls to the police believing her father was trying to kill her.
On 31 December 2005, just weeks before she was brutally murdered by her father and uncle, Banaz escaped from the family home where she had been forced to drink alcohol and was in fear for her life,
She ran to a cafe in Wimbledon in a "distressed" state, claiming people were trying to kill her. She told the police officers in question she was forced to drink alcohol and had cut her hands when breaking a window to escape.
Unbelievably an IPCC investigation found the officers focused their attention on the broken window and ignored the threats against her.
The MPS hearing into the officers' conduct was scheduled to take place last month but a key witness refused to give evidence leading the IPCC to end the investigation.
IPCC commissioner Naseem Malik said she was "deeply disappointed" that the hearings would not go ahead, adding the two officers in question will now receive "words of advice" over their actions.
She added: "Our independent investigation identified what we believed were serious failures by these officers which we and the MPS believed warranted a full disciplinary hearing. It is therefore deeply disappointing that the discipline process cannot be fully completed.
Ms Malik added the IPCC investigation identified that "opportunities may have been missed" in preventing Banaz's murder.
She said the police response was "at best mixed" with the Metropolitan Police Service dealing with the case "appropriately and sensitively".
But in relation to two incidents, Ms Malik said the IPCC found Banaz was "let down badly by the service she received."
Earlier this year four MPS and two West Midlands Police detectives were given written warnings, while one MPS constable received words of advice in relation to how Banaz's allegation of historical sexual abuse had been investigated.
Banaz's father, Mahmod Mahmod, 52, and uncle Ari Mahmod, 50, are currently serving life terms for her murder.