 Amir vows 'no more mistakes'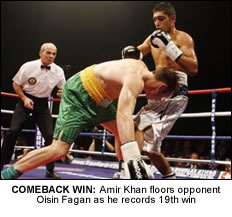 AMIR Khan returned to winning ways with a second-round knockout of Oisin Fagan at the ExCeL Arena, vowing there would be no more mistakes again.
Khan, 21, returned to the ring with memories of his September defeat against Columbian Breidis Prescott still fresh in his mind.
But looking every inch of a fighter with something to prove the 21-year-old made quick work of his opponent with a number of well-timed jabs which sent Fagan crashing to the canvas twice in the opening rounds.
The bout was stopped one minute, 27 seconds into round two with Fagan requiring oxygen as he recouped in the corner.
The victory gave Khan the vacant WBA international lightweight championship and earned him his 19th professional fight out of 20 matches.
His only defeat came in September against Columbian Breidis Prescott.
Khan was criticised heavily in the aftermath of the defeat after he was sent crashing to the canvas twice in the opening minute of the fight.
But the Bolton boxer, who was taken under the wind of respected coach Freddie Roach after the defeat, said there would be no more mistakes that cost him his unbeaten record in September.
"I knew where I went wrong against Breidis Prescott," Khan said.
"Fagan is a fighter who doesn't go down. Look at his record, I don't think anyone has done that to him.
"My team told me to pace myself, not to go for the knockout, that it would come itself. That's what I did.
"I said whoever I was going to fight, that I was going to be the worst opponent they can have.
"I was a bit more nervous than normal but I was relaxed and chilled out.
"It was another day at the office. I know how good I am and I'm not going to make the same mistakes again."