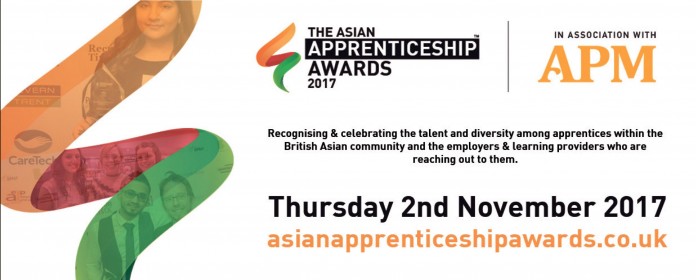 March 6th marks the beginning of 'National Apprenticeship Week'. This is a government initiative to bring employers and apprentices together, and celebrate the success of apprenticeships over the past decade.
Following this occasion, the Asian Apprenticeship Awards will also be launching in 2017, and officially accepting nominations. The acclaimed event will be an opportunity to recognise and celebrate British Asian apprentices, as well as their employers and training providers.
We are proud to announce that this year's awards will be in association with Advanced Personnel Management (APM). They are the leading international human services organisation, delivering employment, injury management, vocation rehabilitation, assessments and Skills provider delivering services across the country.
The inaugural Asian Apprenticeship Awards that took place in 2016, was a huge success and made a significant impact on businesses and professionals in attendance, and the industry in general. Many of our attendees already had an idea about the current lack of apprentices, deriving from a British Asian background. They were familiar with the negative stigma that is attached to apprenticeships within this particular community. Those who were not initially aware of this, had the opportunity to increase their understanding during the event, and learn why recruiting British Asians as apprentices, is an ongoing challenge.
The awards celebrated an array of talent and diversity, found within apprenticeships. The event also showed gratitude towards the commendable employers and training providers- who made the effort to reach out to young people, and offered them a solid chance of becoming successful.
Nominations are currently open and we have several industry specific categories for both apprentices and employers, as well as a specific award for learning providers, schools and academies. In addition to this, our panel will be awarding an individual for their overall contribution towards the field of apprenticeships.
This year's event will be taking place on 2nd November at Birmingham's Edgbaston Cricket Ground. To nominate an apprentice, employer, learning provider, school, or academy for an award, please visit our website: www.AsianApprenticeshipAwards.co.uk
A number of sponsorship opportunities are available to support the cause and celebrate the very best of British Asian Apprentices. For more information, please contact Isa Mutlib at isa.mutlib@pathwaygroup.co.uk or on 0121 707 0550.