 The Asian Today Interview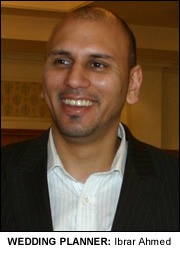 HE'S on course to become known as the 'Jim'll Fix It' of the Asian wedding world and Manchester's Ibrar Ahmed is loving every minute of it.
The 32-year-old is one of the country's most successful wedding planners. Yes, you read right – a wedding planner.
In a world where the very word conjures up images of Jennifer Lopez, Ibrar is proving he has the knowledge and cutting edge to mix it with his very best female counterparts.
Ibrar, who gave up a career as a recruitment consultant, launched Zinc Occasions single-handed last October and has seen the business rocket.
Thanks to FreeIndex.co.uk – a nationwide business directory – customers call from as far as Birmingham, Hull, Derby and Leeds making him one of the north's major players in Asian weddings.
Zakia Yousaf caught up with Ibrar to find out what it really feels like to be a male wedding planner…
What made you want to give up a career as a recruitment consultant to become a wedding planner?
I originally started out in hospitality recruitment, supplying temporary waiting on staff to the likes of Manchester united, Liverpool FC, Various five star hotels and celebrity wedding planners such as TLC events. Whilst supplying waiters, I was often hired in myself as a banqueting / events manager and it wasn't really that long before I realised that I was particularly adept at managing and controlling the weddings where the number of guests often ran into the thousands – typically Asian weddings.
In 2008 I launched my own recruitment agency and using my previous contacts and links, became one of the main suppliers of temporary staffing to private Asian events in the north west.
From there everything just slotted into place. I did the décor for a friends wedding and I think everyone – including myself – was pretty shocked at how creative I could be.
Years of experience in running corporate and private events coupled with a "perfectionist" attitude saw an event run to perfection and that was all it took! Word of mouth spread and before I knew it Zinc Occasions was formed.
Now, the days of sitting behind a phone and harassing HR managers seem so monotonous compared to the thrill of taking someone's dream wedding and making it a reality.
You've excelled in an area that is seen as a predominantly female environment – are people surprised when they find out they have a male wedding planner?
I think many are, But then I go a lot further than your average wedding planner.
I have an in house décor company which specialises in wedding stage décor, an extensive stock of linen, an in house florist team and most importantly, a team of banqueting staff who specialise in serving the Asian wedding guest.
When I'm asked to plan a wedding, I don't just ring ten different people and co-ordinate them, I have personal input in the whole event from start to finish.
For example I design the wedding stage, design the décor (the girly part), organise the catering and itinerary and then on the day I'm personally involved in set up, co-ordination and service
Do you remember your first wedding as a wedding planner?
Absolutely! 500 guests and a bride who kept introducing me as her wedding planner – even though I told her I preferred the title 'event manager'!
Weddings have become big business in the South Asian community – are you amazed at how much people are willing to spend on weddings?
Not really. After all, for most of us it's an event that only comes round once so why hold back!
What's the biggest/most extravagant wedding you have had to organise?
I was involved in the organising of an event where the budget was in excess of £120,000 and that was for 500 people.
A fantastic fairy tale event where a whole venue was revamped, everything from an indoor pond/fountain – created for one day only and complete with real ducklings – tractor loads of trees to make and artificial garden – for the Ferrari the lucky groom was gifted by his father – huge table arrangements etc. Even the whole of the venue was re-carpeted in white to ensure the décor theme flowed!
An absolute dream wedding which came to fruition perfectly for one couple.
What's the strangest request you've had to deal with? 
Playing the bride and groom into Eye of the Tiger – the rocky theme tune! Maybe not so strange but fantastically funny and definitely memorable watching the bride and groom walk down the aisle to that tune!
Have you ever come across a situation where it's impossible to accommodate a client's request?
Budget constraints, lack of space at the venue. Lack of time etc often mean clients have to make sacrifices.
Every event is different and it's the challenges that make me tick. But some times you have to just hold your hands up and admit defeat. The important thing is honesty, I would rather tell the client their request is impossible and suggest the next best thing than try to make the impossible come true and ruin someone's big day.
Have you ever come across a situation where things have gone drastically wrong?
I've been in the industry long enough now to have seen pretty much all that can go wrong at an event.
No event is ever perfect, no matter how much planning goes into it.
A 'perfect' event is one where the guests should never be able to tell when something has gone wrong!