 Kamlesh Purohit returns to the airwaves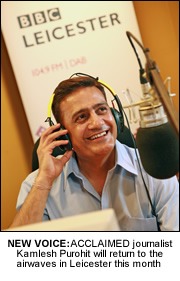 ACCLAIMED journalist Kamlesh Purohit will return to the airwaves in Leicester this month for a new show for the city's Asian community.
Every Thursday Kamlesh will present a blend of local news, entertaining guests and quality music for the Asian communities.
Launching on BBC Radio Leicester on 23 October the show mixes topical debate with a rich blend of entertainment and lifestyle chat including health, fashion, beauty, food and reviews of the week's top news stories.
Kamlesh also pays tribute to the show's 1980's origins on BBC Radio Leicester offering listeners a healthy dose of weekly nostalgia and some classic Bollywood tracks.
Kamlesh started his eminent broadcasting career on BBC Radio Leicester when he was asked to cover for a colleague packaging video reviews. This led to other on-air opportunities until 1988 when Kam became the regular presenter of the Thursday 6 O' Clock Show.
"To be able to relive 'the good old days' again through the new 7 o'clock Show is going to be magical – I can't wait to get started," said Kamlesh.
He added: "The show is not all retrospective though. Over the next few weeks listeners can join me as I search for the first Asian person in Leicester; contribute to debate about the proposed new temple in Gypsy Lane, discuss  cricket and music, and find out all the gossip from Silver Street with my secret Silver Street Spy."
Kate Squire, Managing Editor of BBC Radio Leicester says of the new programme: "I am very excited about this latest addition to our schedule. The show is intended to act as a forum which reflects the diversity and vibrancy of the Asian communities in Leicestershire. And we know in Kam's capable hands that listeners will be entertained and enthralled."
The 7 O'Clock show, starts Thursday 23 October on BBC Leicester 104.9FM.