 Ex-Indian captain calls a day on glittering career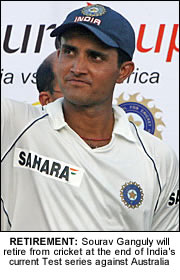 FORMER Indian cricket captain Sourav Ganguly has announced he is to retire from the game.
The 36-year-old revealed the news to stunned journalists at what was supposed to be a routine press conference ahead of India's first Test against Australia in Bangalore.
Ganguly, who scored 15 hundreds in 109 Tests, said the current four-match Test series against the Aussies would be his last.
The former captain was a surprise inclusion in the 15-man squad for the Test series against Australia after suffering a recent dip in form.
"Just one last thing lads, before I leave, I just want to say that this is going to be my last series," Ganguly said at the end of the press conference.
"I've decided to quit. I told my team-mates before coming here. These four Test matches are going to be my last and hopefully we'll go on a winning note."
Ganguly stared in 109 Tests for India with 49 of those as captain. The 21 matches won during his captaincy stands as a current record.
News of his retirement was welcomed by Kris Srikkanth, the head of India's new selection panel who said Ganguly had made the right decision.
"I think Sourav Ganguly has been an extraordinary cricketer," he said. "He has brought so many laurels to the country both as a captain and as a player.
"I think he's probably taken the right decision. He had a good chat with me and my co-selector Narendra Hirwani. He wants a peaceful series without any troubles on his mind. As a player I can tell you that when you have an axe over your head it doesn't feel right. I hope he goes out with couple of hundreds. Ganguly was one of the best captains the world has ever produced and I think he deserves it."
Reports in the press had suggested the Indian cricket board were keen for some of the older players to make way for younger talent through a 'voluntary retirement scheme'.
But Ganguly dismissed the accusations. . "I don't think it's ever possible that anybody can offer you a VRS scheme," he said. "You cannot do that to players like [Anil] Kumble, [Rahul] Dravid, [VVS] Laxman, me, Sachin [Tendulkar] or anyone.
"What is important is what you get to know from the board [BCCI] and as far as I, and some of the senior players, are concerned, we have not received any intimation from the board on anything."