 Police search for 51-year-old Shashi Dhar Sahnan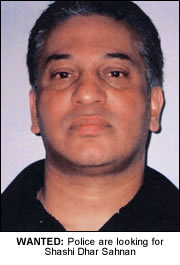 POLICE are appealing for help in tracing a man said to be part of a drugs gang who attempted to smuggle a huge quantity of heroin into the country.
Shashi Dhar Sahnan, 51, is wanted by Leicestershire police in connection with an investigation into a £1.5 million heroin smuggling operation.
The huge quantity of drugs, which were concealed in packaging surrounding air conditioning units, was seized by HM Revenue and Customs during a joint operation with Leicestershire police in July 2007.
Eagle-eyed customs officers found the drugs hidden in the struts of pallets upon which the machinery was being transported.
This led to the arrest of 15 men and three women from Leicester, Birmingham and London who have since been released on bail pending further enquiries.
Officers believe Sahnan has connections in the West Midlands, Belfast Northamptonshire and London. However, his current whereabouts is unknown and detectives are appealing for the public's help in locating him.
Detective Inspector David Sandall, who is leading the investigation, said: "We urgently need to trace Sahnan. We know he has family in the Birmingham area and has associates in London, Belfast and Northamptonshire. However, he could be anywhere in Britain, living on your street, shopping in your local grocery store.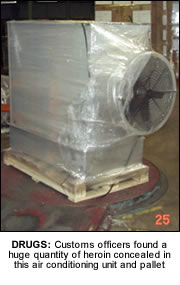 "Sahnan wears a hearing aid in his right ear. We are asking people to look very closely at this picture, do you recognise the face? Have you seen him in your area?
"If you know where he is, please do not approach him and call us immediately. We can assure you any information will be treated with the utmost confidence and if people are fearful of giving their names, they can contact Crimestoppers anonymously."
Steve Roper, Detection Manager for the newly formed UK Border Agency (formerly HM Revenue and Customs) said: "This was a highly organised and sophisticated smuggling plot to bring a large quantity of Class A drugs into the UK.
"The skills of our officers allowed us to detect and seize the drugs despite the inventive methods used to conceal them."
Anyone with any information is asked to contact the Operation Oscillate team on Leicester (0116) 222 2222.