 Music video 'mocks' religion, say Hindus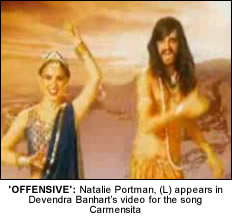 HOLLYWOOD actress Natalie Portman has been urged to apologise to the Hindu community after appearing in a video they say mocks their religion.
The Oscar nominated actress appeared in Venezuelan-American musician Devendra Banhart's video for the song Carmensita.
Portman portrays a princess who must be rescued from an evil king by a bearded prince, played by
Banhart. In the end, Portman's character is reincarnated as an octopus.
Leading Hindu groups have called for the actress to issue an apology saying Hindu concepts and symbols used in the video should "not be thrown around loosely for dramatic effects".
"Although the apology might not completely undo the hurt sentiments of the community, but it might help heal somewhat the pain of Hindu populace of the world," Rajan Zed said.
"We welcome Hollywood immersing in Hinduism but they must take it seriously and be respectful," he added.