 Charities join forces to share experience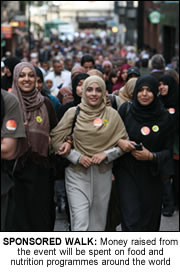 OXFAM and Muslim Aid have held a joint sponsored walk across London to celebrate the holy Muslim month of Ramadan.
Over five hundred Muslims and non-Muslims took part in the four mile walk that began at Victoria Gardens and ended at the Central Mosque in Regent's Park.
"Ramadan is a month of care, a month of contemplation when we look after others. This is a historic opportunity for Muslim Aid and Oxfam to work together to raise funds to serve humanity," said Saif Ahmad, CEO of Muslim Aid.
The money raised from the walk will be shared by Muslim Aid and Oxfam and spent on food and nutrition programmes around the world.
The increasing costs of basics such as rice, corn and wheat mean the world's poorest are suffering in countries like Ethiopia, Bangladesh and Iraq. Oxfam and Muslim Aid have already developed many food and nutrition programmes, which will be helped by this event.
"This walk is really symbolic; it shows that we are all working towards ending poverty in the world. We must show we can do this together. We have a faith based organisation and a secular organisation working together for the same cause to show solidarity" said Barbara Stocking, Oxfam Chief Executive.