 British Hindu's hail momentous occasion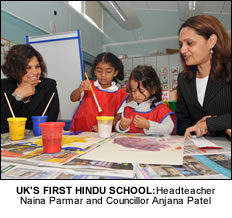 THE new school term began today for the first 30 pupils of the Krishna-Avanti primary school – the UK's first voluntary-aided Hindu school.
Pupils began lessons at a primary school adjacent to the main site where the brand new, state-of-the-art building encompassing a meditation garden and an amphitheatre for outside teaching is being constructed.
The school, in Edgware, will educate children between 5-11 with admission numbers expected to rise to 236 over the next six years.
The school will offer an education based on Hindu values and beliefs but lessons will follow the national curriculum. Pupils will have the opportunity to practise meditation and yoga, with school lunches following a strictly vegetarian diet. There will also be classes in the classical Sanskrit language on offer.
Head teacher Naina Parmar said:"I want our school to be a haven of peace.  Hinduism is a very inclusive faith which naturally promotes a calm, caring and cooperative learning environment.  This will be reflected not only in the curriculum – which will include prayer, yoga and meditation alongside all the usual mainstream subjects – but also in the school's ethos and environment. 
"I am determined that we will be concerned not just with achieving excellent results, but also developing the whole child, including through integration with the wider community," she added.
Ramesh Kallidai, Secretary General of the Hindu Forum of Britain, added the opening of the school was an "important step" for Britain's 1.5 million Hindus.
"Now Hindus, like all the other communities, have a choice and can decide whether or not to send their children to a school based on their faith," he said.