 British Pakistanis can aid fight, says Minister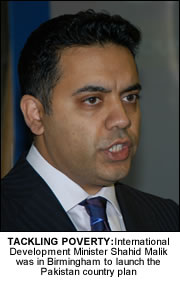 AMBITIOUS plans for the UK to reduce poverty in Pakistan can be achieved but only with the continued support of British Pakistanis, International Development Minister Shahid Malik said today.
Shahid Malik was speaking at the start of an unprecedented tour around the UK to meet people of Pakistan origin. During the next week he will meet with MPs and local residents in Birmingham, Bradford and London to outline the UK Government's £480 million package of assistance to Pakistan.
UK assistance will continue to focus on health – including the battle against diseases like TB and polio – and on good governance and earthquake reconstruction. It is expected that the funding will mean 8 million cases of TB are prevented.
But there will now be an additional emphasis on assistance to the border areas as well as on education, with more than £250 million being made available to bring 5 million children into school and to increase training opportunities for 500,000 young people.
The Pakistan Country plan was published earlier this year after a year long consultation with members of the Pakistani community, private sector and civil society.
Launching the plan at an event in Birmingham attended by people involved in the consultation, Shahid Malik said:
"The UK wants to help ease the suffering of the 36 million poor people living in Pakistan. But we can't do it alone. We need community groups, the private sector and civil society to work together, to work with the international community, and to work with us to fight poverty through development.
"Our heritage means that we are uniquely placed to make an effective contribution to development in Pakistan. People here today have done just that by providing views that have shaped how aid will be prioritized and spent. Together we can make a difference and together we will improve the quality of life for poor people living in Pakistan."
DFID's direct financial support to the government's budget has helped increase the Government of Pakistan's overall spending on poverty reduction by 90% over the last three years.