 Mother-of-one died from stab wound, police say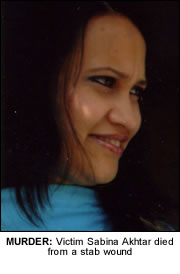 A MAN has been charged with murder after the body of a woman was found in Levenshulme.
Malik Mannan, 35, of Meldon Road, Longsight is charged with the murder of Sabina Akhtar.
He is due to appear at Manchester Magistrates' Court today.
Sabina was, found dead at a house on Charlton Road, Levenshulme on Friday 12 September 2008.
A post mortem concluded she died as a result of a stab wound.
Sabina aged 26, was known to everyone in the local community as Kumkum.
Her friends and family who do not want to be named said: "Sabina was loved very dearly by us all.
"Her three-year-old son was very attached to his loving and dedicated mother.
"A child should not have to cope without its mother.
"Sabina deserved so much from life. She was a very brave person and was devoted to her son.
"We will all miss her dearly."