 Stolen jewellery valued in excess of £50,000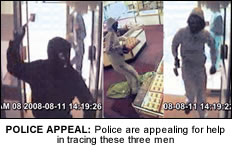 DETECTIVES are appealing to the public for help in tracing three men who stole jewellery valued in excess of £50,000 from an Asian jewellers in Leicester.
The robbers made off with a quantity of 22 carat gold bangles and earrings after smashing their way into Bipin Jewellers on Belgrave Road.
Stunned customers and staff fled in horror as the three men, wearing balaclavas and gloves, smashed glass cabinets with hammers.
The trio fled the scene in a blue Mercedes A class which was later recovered nearby on Abbey Park Street.
Detective Constable Jonathan Davies, who is investigating the incident, said: "Thankfully the staff or customers in the store were not injured during the incident, but they have been left extremely shaken.
"I would ask people to look carefully at these stills and contact us if they recognise these men or have seen a group of men in similar clothing or a similar vehicle in the area.
"We have also released a copy of the hallmark which identifies the stolen jewellery belonging uniquely to this jeweller. If you have information regarding the whereabouts of this jewellery or are approached by someone selling items with this hallmark in suspicious circumstances, please get in touch with us urgently.
"Any information you have, no matter how small it may seem, could prove vital to our enquiries so please contact us or Crimestoppers, which you may anonymously if you do not want to give your details."
Anyone with any information regarding the incident is asked to contact DC 2068 Jonathan Davies on 0116 222 2222, follow the instructions to leave a message for a police officer and when prompted key in the officer's identification number 2068. Alternatively contact Crimestoppers, which is free* and anonymous on 0800 555 111.* Please note, some mobile 'phone service providers may charge for this call.