 Bowler looking at two-year ban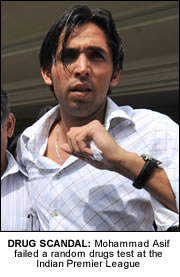 PAKISTAN bowler Mohammad Asif is looking at a possible two-year ban after his 'B' sample tested positive for the banned steroid nandrolone.
The 25-year-old tested positive for the banned substance following a routine drugs test at the Indian Premier League earlier this year.
He requested his B sample to be tested in the hope that it would clear him of any wrongdoing.
But there may yet be some reprieve for the young bowler after the two samples came back with different levels of the banned substance even though they were obtained at the same time.
The player, who has already been suspended by the Pakistan Cricket Board following the initial result, is hoping a discrepancy in the two test results will help his case.
"I am confident of getting out of this mess," Asif told AFP
"Both my lawyer and medical experts are confident that we can fight this case and come out clean."
Asif's lawyer Shahid Karim said a possible plan to appeal against the result would only be made once he received the official IPL test report.