 Six-year sentence for Ghulam Hussain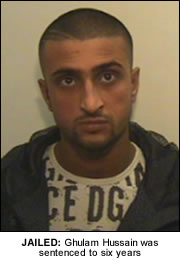 A ROCHDALE man has been jailed for six years for causing the death of a 19-year-old man in a high-speed collision.
Ghulam Hussain, 28, of Deeplish Road, Rochdale, was found guilty at Manchester Minshull Street Crown Court. He was also been disqualified from driving for five years.
Craig Stuart Borland, 19, of Abito House, Greengate, died after he was struck by a silver Nissan Primera driven by Hussain last July.
Witnesses saw Hussain's Primera travelling at speed along a dedicated bus lane on Ashton Road. Hussain was racing another car, a blue Citroen Saxo, and they both reached speeds of about 70mph.
Other witnesses described seeing both cars weaving in and out of the bus lane at speed.
At around the same time Mr Borland stepped out into the road, but was immediately struck by Hussain's car.
He suffered a massive head injury in the collision and was taken to Oldham Royal Hospital for treatment.
He was later transferred to another hospital but he died a few days later.
Hussain was arrested at the scene on suspicion of dangerous driving, but was subsequently re-arrested in October 2007 for causing death by dangerous driving.
Hussain told officers that he saw a car pull out into the road and attempted to swerve round it. He conceded he didn't see Mr Borland.
The owner of the blue Citroen Saxo has never been traced.
Police Constable Gareth Thompson of the Road Policing Unit said: "Hussain's driving that day displayed an arrogant disregard for anyone else who may have been using the road.
"He was driving at speeds of up to 70mph down a designated bus lane and was clearly in no position to take evasive action if required.
"Craig was innocently attempting to cross the road when his young life was cut short.
"I hope Hussain uses his time in prison to reflect on the heartbreak he has caused."