 Men await sentencing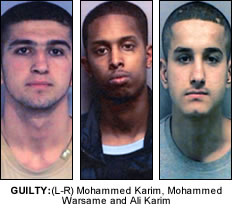 THREE Leicester men who shot at a car containing a group of men in broad daylight have been found guilty.
Mohammed Karim, 18, of Wigley Road, Netherhall, his younger brother, Ali Karim, 17, and Mohammed Warsame, 19, of Martindale Close were found guilty of possession of a firearm with intent to endanger life, possession of firearm with intent to cause fear of violence and possession of a firearm. 
The trio were caught after they fired shots at a Vauxhall Corsa containing young men in the Belgrave area of Leicester last November.
Karim also admitted to possessing the Class A drugs heroin and cocaine.
The three men are due to be sentenced at Leicester Crown Court on September 1.
During the investigations into the incident officers recovered a shortened shotgun, more than 40 cartridges and a quantity of heroin and crack cocaine from a room that Karim had rented at a house in Catherine Street, Belgrave.
Detective Sergeant Dave Speight said: "Thankfully no one was injured during this incident.  However, the gun was fired in the middle of the afternoon in a public area with a total disregard for the harm that may have been caused.