 Duo to appear in court this week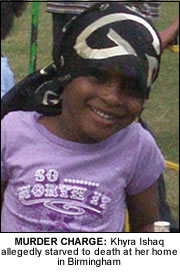 THE mother and step-father of a seven-year-old girl who allegedly starved to death have been charged with her murder.
Khyra Ishaq was found dead at her family home in Handsworth. Birmingham on 17 May.
The CPS has authorised police to charge mother Angela Gordon and step-father Junaid Abuhamza with murder.
The duo were previously charged with causing or allowing the death of Khyra.
Hayley Firman, Assistant District Crown Prosecutor for Birmingham said: "Following a detailed and careful review of the file, a decision has been reached that there is sufficient evidence to charge the two defendants with the murder of Khyra Ishaq."
Both defendants are due to appear at Birmingham Crown Court on Thursday 14th August.