 Birmingham shoppers urged to be cautious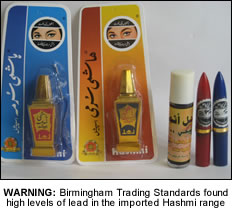 SHOPPERS in Birmingham are being warned to look out for cosmetics that may illegally contain lead.
Responding to a complaint from the public, trading standards officers made a number of test purchases of eye cosmetics including kohl, powder and eye pencils, with some products containing more than 50 per cent lead.
Cosmetics are subject to strict safety regulations which prohibit the use of lead and its compounds in all cosmetics products, except for lead acetate in hair dyes.
A number of products from an imported Hashmi range were found to have extremely high levels of lead.
Two of its Surmi range – black coloured kohl worn predominantly by Asian women – was found to have illegally high levels of lead. One tested at 59%.
Councillor Neil Eustace, Chair of the Public Protection Committee, said: "It is important that people know what they are buying and shopkeepers know what they are selling, as exposure to high levels of lead can cause serious health problems.

"All cosmetic products must list ingredients but some we have found either have no information at all or only information in a foreign language, which does not conform to the cosmetic products safety regulations and will have been illegally imported.

"These cosmetics are used predominately by people from the black and Asian communities, and often used on children, and I would urge anyone who uses this type of product to look very carefully before buying."

Samples of cosmetics found to have high levels of lead are:

– Hashmi surmi special eye cosmetic (yellow and brown packaging) – 59 % lead Hashmi surmi eye cosmetic (blue packaging) – 56% lead
– Hashmi kajal eye cosmetic (red tube) – 3.6% lead

– Hashmi kajal eye cosmetic (blue tube) – 3.6% lead

– Eye cosmetic powder – 64% lead

Shopkeepers or shoppers who have come across these products, or any other without proper labelling, should contact Birmingham City Council's consumer centre on 0121 303 6031.