 Akshay Kumar talks Singh is Kinng & Snoop Dogg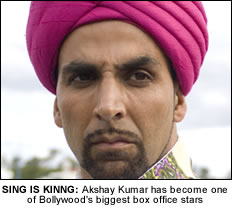 Akshay Kumar is definitive Bollywood. The looks, the films, the style – he has it all. But not enough though to be hailed as the 'King of Bollywood'. It's a phrase that doesn't sit well with the star – "People say I'm 'The King of Bollywood – I'm not Mr Bachchan is", he tells us. There's no denying however that he is a box office gem and his soon-to-be released film 'Singh is Kinng' is expected to be one of the years highest grossing films. Not only does the film boast state-of-the-art action sequences it also heralded rap mogul Snoop Dogg into the world of Bollywood – that's got to be impressive.
We caught up with Akshay ahead of the release of 'Singh is Kinng' for a little chat…
Akshay your latest film 'Singh is King' is out later this month. There's so much hype around it. Why do you think this is?
The film has the most dynamic and state-of-the-art action sequences, a wonderful cast, there is the collaboration with Snoop Dogg and R.D.B for one of the film's title songs, there's the breathtaking Miss Katrina Kaif, outstanding songs for all music lovers, and the uncanny comedy done by yours truly so I think it's a safe bet that someone out there is going to like it! Singh is Kinng is without a doubt, one of this year's biggest Indian movies with a top class production value. The entire team has done a fantastic job and all I can do is just pray it exceeds the expectations of the public.
It's a great name you've come up with there! What was the thinking behind the name 'Singh is Kinng'?
While I was shooting for Bhool Bhulaiya in Jaipur, I saw a Sadarji driving one of those huge trucks, and there it was the title of all title's starring me straight in the face 'Singh is Kinng' written on the back of his truck. He let me pass with such a barrel of goodness and beautiful pride, I immediately called up my producer Vipul Shah and said here's a title, got no concept or script but I want to make this movie and my character has to be a 'Singh' with a positive attitude. So there you have the story behind the name, I wonder if the Sadarji remembers me!
You were very keen to get approval from the Sikh community before the film was released. Why was this?
Because I have a lot of respect and am extremely close to the community. I wanted to portray the Sikh community in a positive light, and to make sure that the representation was one that they would be happy with. In the past, Indian films have always marginalised Sikh characters to secondary roles, typecasting them as jokers. I wanted to make a film that placed a Sikh character at the centre of it, and show that a Sikh man is a rounded individual, who is multi-faceted, with many strong components to his character – he is strong on physical, spiritual and emotional levels, with the ability to make people laugh and who accepts and embraces all, with no prejudice in his mind. That's why…
Did you end up having to change much because of this?
No not at all, Punjab is in my blood, I know how they feel, I understand their fears and concerns as well as their love, joy and passion, it was one of the most self playing roles I've had the pleasure to play. I didn't need to study or ask – it's already within me.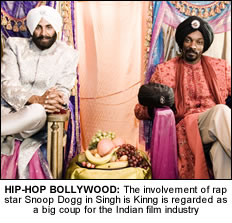 There's been so much written about Snoop Dogg's involvement for the films soundtrack. What does it mean to you to have such a massive star on board?
It's been fantastic. It is a further testament to the fact that Indian cinema is establishing ever stronger links with the mainstream. The world now knows about Indian cinema and it was brilliant that someone of Snoop Dogg's calibre wanted to be involved in this project. And he was just as proud, to sing dance and look like an Indian as I am, bless him.
What was it like working with him?
Totally killer man, what a day to remember! He's so chilled and laid back, a complete family guy who even brought his uncle to cook chicken for absolutely everyone. He couldn't wait to wear a turban and dance like a desi boy! He's such a diamond geezer I can't tell you!
Do you think Snoops involvement in 'Singh is Kinng' will act as a springboard for other major American artists to get involved in Bollywood?
Definitely. Indian cinema is such an iconic industry, with reach and recognition right across the globe. It is a great platform for mainstream artists to tap into new audiences. It is such a creative industry too, that offers so much scope for artists to come up with ever more creative ideas and collaborations.
You've become the undisputed star of the Bollywood box office for the past year. How does it feel to be the 'King of Bollywood'?
Guys I'm not even king of my own house hold let alone 'King of Bollywood'! There are just as many legends before me now, as there were 2 years ago. I'm just doing well in my world; I'm yet to be given any such incredible title, but thank you anyway.
It's always sweet to hear such compliments; unfortunately they are not true yet, maybe one day.
Recent reports have suggested you're teaming up with Hollywood hotshot Sylvester Stallone in Sajid Nadiawala's next film. Is there any truth in these reports?
I hope so – I have just been filming with him! It's surprising how much we have in common, our fears, our physical struggles, our love for our work; it was like sharing the stage with a brother from another mother! A lot of people say I'm the Stallone of Indian Cinema so you can imagine the grin on my face when he's says 'what great shape he thinks I'm in'. I was like 'dude you have no clue how much impression you have had on me since I was a kid' – I didn't say that obviously, I was trying to keep my cool! Wonderful man through and through. 
What other projects have you got lined up for the rest of 2008?
My next film project is 'Chandni Chowk to China' – this is again a huge film for me as it will be the first ever Warner Bros Indian film release. This film will blow audiences away, (hopefully) it blew mine away just shooting for it!
'Sing is Kinng' is released across the UK on 8 August
Interview by Zakia Yousaf