 Asian star returns with second album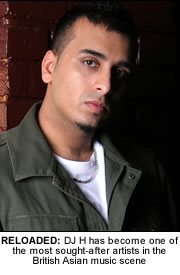 INNOVATIVE, energetic, artistic and charismatic are qualities that run through the veins of top Asian DJ, DJ H as his pulsating and catchy beats have caught the hearts of an international audience.
His success comes as no surprise as DJ H has successfully transformed the title DJ into artist as he creates masterpieces with every stroke of the turntable, which his new album 'Re-loaded' with fellow DJ, DJ Rags clearly demonstrates.
Born and bread in Slough, Hardeep Kataria aka, DJ H had an eye for music from an very early age, "From since I can remember I wanted to get into music and I used to practice in my bedroom pretending I was playing for thousands. My parents clearly knew of my passion for music and when I was 14 my Dad promised me a set of decks if I passed my G.C.S.E's and that was the beginning you could say."
Since then DJ H has been setting alight the stages of a number of top venues across the world as his music has rippled across the seas and created a number of tidal waves on the way though the sheer brilliance of his abilities.
Not content with dominating the stages playing the music of top artists across the Bhangra genre, DJ H turned his attention into making music of his own which resulted in the creation of his first album 'The Debut'.
The Debut was a massive international hit and was rated one of the best albums of 2005. The single Ishq Brandy was heralded as one of the best Desi beats of the decade and remained at the top spot of the Club Asia charts for 8 consecutive weeks.
Now DJ H is getting ready to re-enter the music charts again as he unleashes his new album with fellow DJ, DJ Rags in 'Re-loaded' which is destined to do everything that the anticipated hype has been gunning towards – to shoot to the top. 
DJ H took time out from his busy schedule to talk to Sunny Sahota about his new album which which is out this month.
Your first Album was a huge hit which produced the number one single Ishq Brandy. Do you feel pressure from your new album to meet the same success?
I don't feel the pressure at all as I am really confident that this album is one of the best pieces that I have done which is why it took some time to put together as I wanted to make the album perfect. As a result I feel that Re-loaded is definitely an album which is going to be a success as there are several potential smash hits which I am really excited about. The Debut was great as it gave me the platform to experiment with various things but with Re-loaded it definitely showcases my growth which is why I am confident of its success.
What is the inspiration behind 'Re-loaded'?
That's a tough one as I really can't pin point a specific inspiration, as I get my inspiration from everyday life and things that I love. For example the song Ajaa Ajaa stemmed from my passion of Dubai and the whole Arabic feel which the song clearly demonstrates. But I can say as a whole I got the inspiration from my new album from the audiences. If I dropped a hit which sent the crowd wild I knew I was onto a winner.
You have worked with a number of top artists on your new album, which one do you feel was the best?
Yeah, I was lucky to work with a number of great artists such as Manak-E, Kaka Bhaminawala and Nirmal Sidhu who were all truly amazing. It was great because each of them brought a different element to the album which made each song so unique, which is why I really can't say which one was the best. It was truly a great experience working with all of them which the end product shows, which you will soon be able to listen to yourself.
The music industry is full of DJ's and producers. What makes you stand out from the crowd?
I am talented and I am good at what I do which makes me different from the rest. I have the drive and the passion which keeps me focused which motivates me into making good music. Its not that I am saying that the rest don't have that same mentality but I believe that I have the extra inner strength which makes me stronger. Also I give the audience what they want to hear and not what I think they want to hear. I feed off the audience which makes me so unique. I can play in an array of different clubs and venues and I will be able to make each of them dance and move, even if they are 13 or 30.
You have 4 videos on the way which were filmed in various locations across the world, from Dubai, Mumbai to Punjab. What was the inspiration behind the videos?
The concepts for the videos were drawn up by a friend called Simon Smith from Ballistics. He has an amazing talent to think out side the box and create amazing and innovative concepts. It was an absolute delight to work with him as the videos all stand out and are produced to a top quality. Obviously I gave Simon a brief of the feel I wanted and then Simon worked his magic and created the final piece. 
Which was your favourite video?
That's a tough question, but I would have to say that it will have to be the Punjab video shoot, for the song Jawani. I am not going to give too much away as I want the video to be a surprise but the concept, the artwork and storyline is fantastic so watch this space to see for yourselves.
Do you get star struck? If so with who? 
Of course I get star struck especially when I first started out in the industry, however now most of the artists that I idolised have become close friends and I have had the pleasure to work with many of them in Re-Loaded. However I would say that I still get a little star struck when I see Gurdass Mann, as he is a real legend who I hugely respect and someone I would love to work with on a future project.
Re-loaded will be out in August 2008. For further information on how you can pre-order your copy visit
www.reloadedcamp.com