 Sonu Niigaam honours a South Asian legend
This month the legendary Mohammed Rafi will be brought to life once again. 28 years after Rafi's death Indian singer Sonu Niigaam will embark on his own personal journey to honour the world's most revered South Asian artist. Sonu will team up with the City of Birmingham Symphony Orchestra to deliver some of Rafi's biggest hits on a three-venue national tour this month..
We caught up with the star to find out just what this project means to him
How did you feel when you were asked to front the Mohammed Rafi tour?
Well it all started with Atul Churamani from HMV SAREGAMA, approaching me to do this album with CBSO, of the legendary Mohammed Rafi songs. Besides him being one of the few people I respect in the music biz, I knew why he was approaching me! He knew my passion for Rafisaheb and my study of his songs and style of singing. My first apprehension was would it become like any other Mohammed Rafi cover version that I have done in my initial days in this industry! But he assured me that I should give it a listen first and then decide. I met Tim (Tim Pottier, conductor and the main force behind the Rafi Resurrected tour and CD) with him at my studio consequently heard the tracks and amongst me and my office, we decided that we were in for this one.
The next thing was conceptualizing a stage performance where people get a true taste of great music and live vocals, without any gimmicks. Thus we worked towards the stage concerts.
I read an article where you said the project was something that you had waited for a long time. What did you mean by this?
These days of technological advancement, a common man doesn't come to know the real prowess of a singer unless they watch him recreate the same magic on stage. Thankfully, I have been able to garner overwhelming love and respect for my craft and thus all I look for are projects that will further reinforce the same, besides challenging me further.
My reverence for Rafisaheb is not hidden from anyone. He has been the most vital influence in my initial days of learning, thanks to my prolific father Agam Kumar Nigam who introduced me to the mastery of Rafisaheb. It's been 28 years since his demise and it's high time that GenX is introduced to his craftsmanship! That will be my tribute to my teacher. Thus this is a project which for many reasons is one of my most awaited.
What is it about Mohammed Rafi that fascinates you?
He had this immaculate ability to switch moods and tones through his divine voice, thereby giving him a wider repertoire of songs of more genres than any one of his contemporaries could claim! Be it a sad, happy, fast, slow, fun, comedy, devotional, qawwalis, ghazals, high pitched songs, comedy, semi-classical or patriotic songs, he excelled in everything. On top of that he was known to be a very good man, which reflected so beautifully in his body of work and voice.
You've often been cited as the modern-day Mohammed Rafi. How does this comparison sit with you?
I guessed I worked for it! Who doesn't love to be compared to his all time idol? Times have changed, newer genres have emerged and appeared, and one cannot strictly follow what the predecessors have done because those were different times. Therefore I compose, dance, play instruments, programme, host and judge TV shows, act in movies, sing in English, as there is a world waiting out there to be explored. But what I have learnt from him is one, how to act while singing, and two, smoothly shift between multiple genres. Young singers credit me and love me for this; therefore it's important for them to see where I derive my inspiration from!
What do you think the CBSO brings to the array of Mohammed Rafi songs chosen for the tour?
CBSO brings an outsider's perspective to these songs that are a part of the day to day lives, upbringing and memories of the musical culture of millions of Indian music lovers across the globe. The songs that have been heard over and over again by us from 'forever', are now interpreted and presented differently by CBSO, and I must say, in spite of the absence of traditional Indian instruments like dholak, tabla, shehanai, etc, the core essence of the song, its dignity is undisturbed. This clearly shows how the music of the world is gradually coming together and speaking the same language with time.
Did you join up with the CBSO to record the tracks together for the CD or were they recorded separately?
I recorded the songs in India in the absence of CBSO, in front of a sea of bedazzled media. HMV SAREGAMA and I decided on this so the rest of the world could enjoy witnessing multiple songs recordings and see that I took no more than 10-20 minutes to sing these songs! It was fun and so memorable!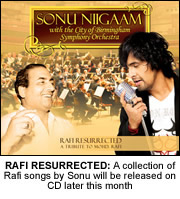 Tim Pottier revealed you were not overly keen on including an Indian percussion with the orchestra. Why was this?
Tim is right as if you honestly see, we in India had a phenomenal set of musicians and orchestra back then about 40-50 years back. It was much better than what we have today, since computer song programming hadn't started then, so more musicians learnt orchestral instruments like the clarinet, oboe, violins, viola, cello, trumpets and other brass instruments. Thus by adding Indian instruments in these tracks would have made it closer in terms of sound to the original, besides some basic differences. So I suggested the exclusion of any such thing and keeping the CBSO in its pure form. I must tell you, you will love hearing 'Main Jat yamla pagla deevaana', now in its CBSO form!
How much are you looking forward to the tour this month?
As much as a priest looks forward to going to his temple everyday to bow down before his Lord! And I am going to get my parents too, the true catalyst and the only witness to my passion for Rafisaheb!
Interview by Zakia Yousaf
Saregama presents Rafi Resurrected starring Sonu Niigaam and the CBSO at Symphony Hall, Birmingham, on Tuesday 15 July, at the Apollo Theatre, Manchester, on Thursday 17 July and at the Coliseum, London, on Saturday 20 July.
A Special Double Album, 20 track CD titled 'Rafi Resurrected' is available to buy now