 Number Plate king Afzal Khan bags 'HRH' showpiece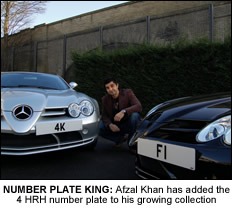 IT seems smashing the British world record for a number plate was not enough for one Bradford businessman.
Despite shelling out a cool £440,625 on the F1 number plate and making international headlines earlier this year, many observers went on to claim Afzal Kahn would not go on to purchase another cherished number plate of the same calibre.
However, Afzal, an entrepreneur from Bradford, has defied the odds; by purchasing the cherished 4 HRH number plate for what sources close to Kahn claim tops the price he paid for the F1 number plate.
And although the HRH is set to raise eyebrows; the principal British designer believes he has purchased a number plate worthy for a member of a royal family.
He said: "This number plate is special. I have never seen a number plate with the letters HRH. As far as I am concerned, the number plate is truly sensational and worthy for a member of the royal family."

Afzal has been buying and selling registrations that are used as show plates or are sold with bespoke Project Kahn vehicles. However he believes the 4 HRH number plate is unique to say the least.

"They are also sold separately to customers who want to add a bit of intrigue, style or personality," says Afzal.

"For a lot of people, adding a personal registration can do more for the way they feel about their vehicle than adding £20,000 of extras. The 4 HRH number plate is for an individual who enjoys the finer things in life, as it is a unique number plate and will no doubt be snapped up by an exceptional individual."

"At the moment we are concentrating quite heavily on our Aston Martin conversions, which include a full body kit for the DB9 and for this reason we are buying a large number of 007 number plates."

The 4 HRH number plate is currently on display at the Motor Expo show in London.