 From Ralph Lauren to Learning Lines….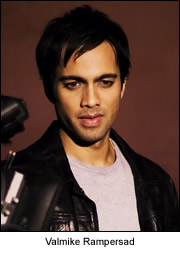 FOR Valmike Rampersad there was only ever one thing he wanted to do with his life. Working at fashion giant Ralph Lauren was satisfying enough but his dream of becoming an actor was always in the back of his mind. So he finally decided to take the plunge. Leaving the fashion world behind him, he worked hard at the Central School of Speech and Drama and finally got his break with 'Aisha & Nadeem' – a film focussing on Guantanamo Bay. Since then he's slowly been making his mark in the acting world.
Fresh off his latest project 'Open Secrets' opposite veteran actor Saeed Jaffrey we spoke to Valmike about his journey into the acting world.
Valmike tell us a bit about yourself. How did you get into acting?
Acting is something that I was always interested in, but coming from an Asian family where everyone is a Doctor, Lawyer or Businessman, it wasn't encouraged. I started pursuing acting at night at a Method Acting school after work just for fun. One night a week led to three nights a week and before I knew it I was doing classes at every free opportunity.
You gave up a very good job at Ralph Lauren to pursue your acting dream. What prompted this move?
The day job was a great job and Ralph Lauren was an amazing company to work for, but the job didn't give me the type of buzz I got when I attended drama classes. I thought long and hard about making the change and applied to all the usual Drama Schools just to see what would happen. I didn't think I would get in which would have meant that I should stick with the job. I was over the moon when I got in to Central School of Speech and Drama and didn't think twice about the switch after that.
Was it a difficult decision to give up a steady job to pursue your acting dream?
Yes, definitely, but that was mostly because I was giving up a certain level of security. I weighed up that security versus doing something I feel passionate about and I went with what felt right.
I suspect the move hasn't been all plain sailing, but what's made it all worthwhile for yourself?
Every time I get the opportunity to work with a new crew and develop a new character, it reminds me of why I am glad that I gave up the day job. Each acting job is always different and brings with it a new challenge. It's the time in between actual jobs that I don't enjoy, I love working, and coming from a work oriented background I fill that time by doing things that hopefully help me build my career.
Your first major film 'Aisha and Nadeem' was well received. Did you expect it to do as well as it did?
I wasn't expecting anything to be honest. I was more excited about being given my first opportunity to film something topical with a professional crew. I am really glad that it got picked up at the Clermont-Ferrand Festival and is now being made into a feature film.
The film centres around the whole terrorism saga post 9/11. Was it a difficult subject matter to deal with as an actor?
Reading case studies about innocent people who had experienced Guantanamo was a difficult one to digest, but it also made me even more passionate about the project. The abduction scene in our film was all improvised. I wasn't allowed to meet the soldier beforehand and I didn't know what was going to happen in that scene. At the time I remember thinking what a terrible experience that must have been for the innocent people. It was quite a difficult scene.
Your latest project 'Open Secrets' deals with mental health in the Asian community. What attracted you to the film?
I really enjoyed the script and right away I decided that I wanted to play Sunil, a suicidal manic depressive. The film deals with the stigma of mental health in the Asian community. I was also naturally attracted to the challenge of playing a complicated character.
How did you prepare yourself for the role?
I spoke to Doctors to find out more about Manic Depression, the symptoms, treatments etc. I also watched various films on Manic Depression, logged into internet chatrooms set up for families coping with Manic Depressives and a lot of book research in the library. I wanted to transform myself physically to fit the role, so I went on a diet and grew my hair. I also had to learn to smoke, which I really didn't enjoy until the props team found some very weak cigarettes!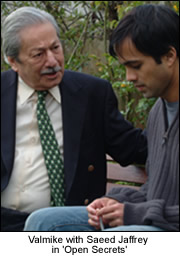 The film also stars Saeed Jaffrey. What was it like to work with him?
I grew up watching Saeed's films (Gandhi, The Man Who Would be King) and really enjoyed working with him. He has so much energy and even though he has achieved so much in his life, is still passionate about acting. Saeed plays my Uncle and I felt there were genuine feelings of compassion from him when we did our scenes together. It felt like we were really family.
As an Asian actor do you find there are a lack of opportunities to play a character that is not defined by race?
I actually did my dissertation on that, so I could go on and on….Yes there are a lack of opportunities, but it is slowly changing and there are a lot more opportunities now for Asian actors than there were 10 years ago. We live in a cosmopolitan society after all and this needs to be reflected more. People do not seem to realise that Asians experience the same things that caucasians do, we also have abortions, incest, rape, drug problems, modern houses and English accents etc. We don't all drive mini cabs and run corner shops, or blow ourselves up. I think the 3rd generation of Asians who have grown up in the UK, want to see us represented as Asians in the 21st Century, normal everyday people whose lives are not dictated by religion or family and where intercultural marriages are not our only problems.
What have been the highlights of your acting career so far?
My career is relatively new having graduated from Drama school under a year ago but the experience of filming 'Get To Know Me' at Zentropa studios (Lars Von Trier and Thomas Vinertberg's studios) was amazing. It was my first green screen job in a big studio and it was a lot of fun. I got to fly! I've been wanting to that ever since I saw Superman! I learnt so much on that shoot. Filming in the studio where some of my favourite Dogma films were made was also very exciting, some of the props are still there!
What would be your dream film project?
I think I am in the process of slowly writing it. It is about a wealthy Asian family who seem to be happy on the surface, but behind closed doors each of the 'perfect' sons, daughters and grandchildren are all dealing with some very ugly secrets. I also hope that someone hurries up and makes the Asian version of 'Festen' by Thomas Vinterberg.
What projects have you got lined up and what are your plans for the future?
There are a few things in the pipeline, but being superstitious I won't give too much away, not until I am actually on the set. Acting is an unpredictable profession! I am due to start filming a new political action thriller feature film highlighting the conflict in Darfur, but also featuring a similar conflict in the UK. I am also due to start my first radio gig soon for the BBC which I am really looking forward to.