 Manjula Sood UK's first female Asian Lord Mayor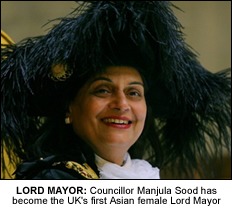 BRITAIN'S first Asian woman Lord Mayor has taken up her office in Leicester.
Councillor Manjula Sood was sworn in at Leicester Town Hall on Thursday evening.
She has become the first Asian woman in the country to take on the role of Lord Mayor.
"It's a great honour for me to represent the city", she said. "This will be an historic time for Leicester in many ways, and I am really looking forward to doing all I can to promote what's going on here across the world."
Cllr Sood first became a Leicester city councillor in October 1996, for Latimer ward. She was inspired to take up the role following the death of her husband Paul Sood, who had been the councillor for that ward until his death in May 1996. 

In May last year she became the first Asian woman to join the city council's Cabinet, with the new portfolio of health and well-being. 

She said she would also be supporting the Special Olympic Games which will be hosted by Leicester next year.
"The Special Olympics raise awareness of the capabilities of people with learning disabilities, and give all those who take part the opportunity to achieve amazing things", she said.

 "They encourage and inspire everyone who is involved in them, and it is my aim to get every citizen involved in the Leicester games in some way". 

Taking the role of Lady Mayoress is Sheenal Sejpal, who will be marrying Cllr Sood's youngest son – Mitesh – later this month. Mitesh, and her older son Manish will be her consorts. 

Cllr Sood moved to Leicester from the Punjab to join her husband in 1970. She was a primary school teacher in the city for almost 20 years.