 Life sentences for 'career criminals'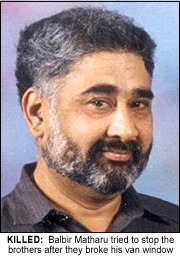 TWO brothers have been jailed for life for murdering a father-of-two after he tried to stop them stealing his car radio.
54-year-old Balbir Matharu was mown down by brothers Albert and Tommy Willet after he tried to stop them fleeing after they broke his van window.
Both men, who pleaded not guilty, were today jailed for life at the Old Bailey.
Judge Christopher Moss ordered that Tommy should serve a minimum term of 25 years and Albert 27 years.
The Old Bailey heard how 54-year-old Balbir Matharu rushed from his office when he saw the two men breaking into his van on the morning of January 12 2006.
As the brothers attempted to flee in their green Ford Mondeo Mr Matharu stood in front of their car and told them to wait for the police.
But Albert Willet drove straight at the father-of two who was knocked under the car.
As the brothers' drove off Mr Matharu clung to the bumper of the car before falling off 40 yards away.
When Mr Matharu finally fell under their Ford Mondeo, it would have felt "like driving over a speed bump", the Old Bailey was told.
Mr Matharu was rushed to hospital where he was treated for fractures to his ribs, collarbone and pelvis.

He died after suffering a heart attack on the operating table.
After the robbery the two brothers took the car to a scarp yard and had it crushed.
Shortly after a BBC Crimewatch appeal featured Mr Matharu's killing the brothers began to boast about their crime.
Whilst in prison for another crime, police bugged their cells and phone calls.
Tommy, 24, was recorded calling Matharu a "dirty old P*ki" and was overheard telling Albert: "Manslaughter, manslaughter that's not bad is it?."
Both brothers denied being in the car but on the first day of the trial Albert pleaded guilty to manslaughter and admitted being the driver.
Sentencing the two men Judge Christopher Moss said: "The crime is beneath contempt. Balbir Matharu was a decent, upstanding family man whose fatal mistake was to stand up to the likes of you when you tried to steal his property.
"You are a pair of career criminals and drug addicts. You have made no contribution to society – you have taken from it."
Mr Matharu, who was married with a grown-up son and daughter, worked for the family building company near the car park where he was knocked over.
Mr Matharu's daughter Baljinder, 30, said: "My dad was a decent, honourable, hard working man who loved, looked after and did everything for his family. The people who killed my dad showed nothing for him as a human being and complete disregard to his life, our lives, and anyone who knew him. Such a level of inhumanity I cannot forgive or condone."