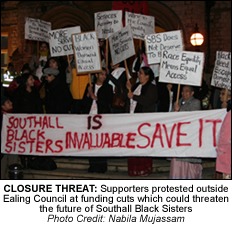 SOUTHALL Black Sisters are to press ahead with legal action against Ealing Council over a row over funding.
The London-based refuge organisation was given the legal go-ahead by a High Court Judge last month.
Southall Black Sisters (SBS) said they would legally challenge Ealing Council for its "failure to have proper regard to its duties under the Race Relations Act".
The High Court Judge also granted an injunction to stop the Council making any decisions on the funding of domestic violence services until the case is concluded.
The Council's decision earlier this year to cut the groups annual funding of £100,000 sparked protests.
Ealing Council have argued there is no need for specialist services for black and minority women and that services to abused women in the borough need to be streamlined – an argument slammed by SBS who accused the council of "failing black and minority women".
The group's initial funding was due to end in April but the Council, unable to make an assessment on where the money would go, postponed their decision until this month.
A spokesperson for SBS welcomed the legal challenge.
"We think that this case will have major ramifications not just for specialist services for black and minority women but for all those struggling for equality for key excluded groups", the spokesperson said.
"The Council has used the government's vague and inconsistent cohesion agenda in a cynical way to stop funding specialist services for those who have been historically the most marginalised and least able to assert their human rights.
"The case will also be significant because the Council's decision represents a political attack on the right to self-organisation for secular black and minority groups."
The High Court case is expected to last three months.
Related Articles